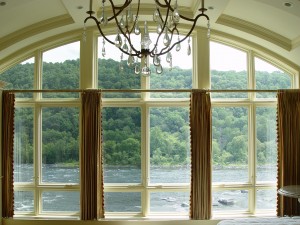 It hit 90 yesterday in Scottsdale. The A/C went on and I cringed at the thought of my summer electric bills. Then I saw this easy renovation project that might save me a bit of money and won't mean I have to replace all my windows.
Sunglasses for the home, better known as solar protection window film, can protect sun damage on the home also help out a bit with cutting energy costs. According to CHB Industries, provider of environmental film applications since 1990, solar protection window film can do the following:
 It is an easy and convenient way to block 98 percent of the sun's ultraviolet rays. These harmful rays can damage and fade expensive investments in the home, including rugs, carpets, furniture, upholstery, wood floors, paintings and antiques. A natural yet harmful bleach, the sun can quickly whiten and dry out fabrics.
 Solar film can cut energy costs by up to 20 percent, regardless of the time of year.
 In summer, it keeps the house cool by reducing solar heat up to 65 percent.
 In winter, film increases the window's insulation, keeping the house warm by reducing heat loss up to 15 percent.
 Applied to the inside of the window, film helps homeowners conserve energy and save money while benefiting the environment. Clear solar window films reduce personal energy consumption which results in a lower production of CO2 (a greenhouse gas) at the local power plant.
While tinted solar window films are nothing new, a new generation of clear films makes this technology an intelligent choice for homeowners that want to preserve the clarity of their windows. No messy bubbles or dark windows – these films go on clear. Clear solar films can be professionally applied to the inside of windows at costs averaging from $10 to $15 per square foot.
CHB Industries is a leading provider of solar heat-control, decorative, and security window films for commercial and residential properties nationwide.  www.chbwindowfilm.com.  (800) 220.2525.