Those who have traveled to the Monterey Peninsula will agree that there is a certain something about the region that makes it unlike any other. Yet, it is hard to put a finger on exactly what that special something is. Sure the ocean views are spectacular, the weather varied enough to experience sunshine and a romantic, cloudy afternoon all in one day, but there also seems to be an unspoken truth that residents and vacationers of the area share. This truth is evident in the smiles of passersby on the street or in a kind wave from a stranger on the beach. These seemingly simple interactions have a deeper meaning, an allusion to the fact that just by being present in Monterey, you get it. And you understand that this place is more than just fabulous Pacific panoramas. Now, appreciators of the area will have an opportunity to satisfy this affinity permanently.  
Cypress Grove Realty recently announced the opening of The Enclave at Cypress Grove, the first phase of a 400-acre planned, residential golf resort community on the Monterey Peninsula's Bayonet and Black Horse Golf Courses.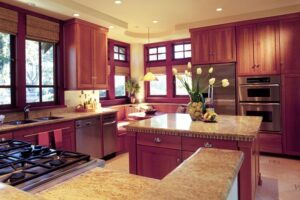 The Enclave at Cypress Grove offers homebuyers 29 custom home sites, ranging in size from 12,000 to 20,000 square feet and featuring ocean or golf views. The gated, luxury resort community provides residents convenient proximity to an abundance of dining, shopping and area attractions. It is minutes away from Monterey Bay, Cannery Row, The Monterey Bay Aquarium, numerous outdoor sports, vineyards and tasting rooms. 
"We're excited to offer homebuyers the chance they've been waiting for to build the home of their dreams with golf or bay views," says Dick Fitzgerald, project manager for The Enclave at Cypress Grove. "We've labored over the planning and execution of this resort community and believe the Monterey Bay area and homebuyers are going to be blown away by the spectacular results."
Thanks to a $14 million renovation completed in 2008, 36-hole Bayonet Black Horse offers the challenge and natural beauty every discerning golfer craves. Golf course architect Gene Bates collaborated with Cypress Grove's partners to create a world-class golf experience. To the delight of golf enthusiasts, Bates maintained the integrity of Bayonet's challenging layout while masterfully improving Black Horse with a complementary design. 
What's more, residents of The Enclave at Cypress Grove will enjoy preferred golf course use without the hassle of obligatory dues. The Residential Golf Membership offers preferred tee times, reduced fees and discounts on food, beverages and merchandise.
Renowned local architect Eric Miller, favored for his ability to balance a client's desire with a community's aesthetic, is the featured residential architect, but buyers may choose their own architect and builder for their luxury home. Comprehensive design guidelines aim to enhance the community's overall and home values by paying close attention to detailed architectural and design standards. 
Cypress Grove has planned a 330-room resort and spa, 125 single-family home sites, featuring panoramic golf and bay views, and 170 condominiums. Adjacent to Cypress Grove's gated community lies more than 20,000 acres of public open space with trails and a regional bike path system.
To learn more about the golf course community or preview custom home sites email info@cypressgroveliving.com or call 831.394.5600. For more information about Bayonet Black Horse, visit www.bayonetblackhorse.com.