Per our post yesterday, the venues for the Arizona tours of Greenbuild 2009 have been chosen. One of our favorite buildings in town made the list. Optima Camelview has been selected as one of the 18 Arizona tours during the 2009 International Greenbuild Expo and Conference, occurring Nov. 11th through Nov. 13th and expecting to draw some 25,000 to 30,000 attendees.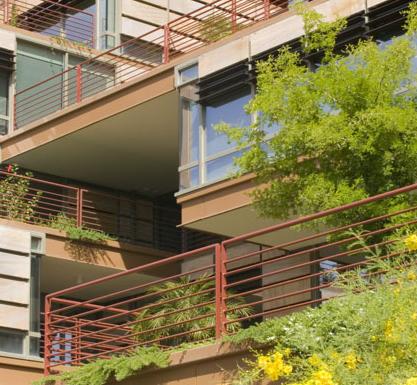 Optima Camelview Village is widely recognized for its innovative design and architectural style, especially because architect David Hovey, FAIA and president of Optima, Inc., integrated "green" elements into Optima from its conception. Just a few of the "green" features include; photovoltaic panels, 17 acres of green roof, 100% underground parking as well as secure indoor bicycle storage, access to public transportation within a quarter mile, low-emitting materials used throughout the development including carpet systems certified as low-emitting by the Carpet & Rug Institute and interior paints in compliance with the Green Seal Standard, individually controlled heating and air conditioning in each residence providing a high level of thermal comfort and support for the wellbeing of each occupant, extensive natural daylight throughout interiors to reduce energy consumption during daytime hours, high performance Low-E glazing coupled with architectural shading devices and cantilevered shading terraces, exterior sunshades and an on-site recycling program.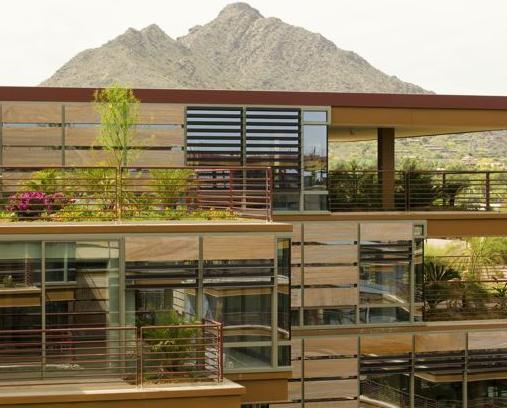 Optima Camelview Village is currently pursuing LEED (Leadership in Energy and Environmental Design) certification, the nationally accepted benchmark for the design, construction and operation of high performance "green" buildings.
The 11 buildings in this 13-acre resort-style community offer the most energy-efficient, eco-friendly and high performance buildings in Scottsdale. Optima Camelview Village is an infill project, which defeats urban sprawl and benefits the responsibility of land use and related environmental issues. Building multi-story structures, such as Optima's seven-story buildings, reduces land usage and economizes the use of constructive material. Its proximity to nearby shopping, restaurant and retail venues encourages walking, biking and/or the use of public transportation, eliminating additional emissions in the Valley.
Additionally, there are approximately 23 acres of landscaping on-site. Every layer of the development is landscaped starting with the ground floor, which actually covers the underground parking garage, allowing for green roof gardens and usable landscape on the first floor. Every courtyard, terrace and rooftop is landscaped according to a green roof system, which helps battle the Urban Heat Island Effect, something the Valley of the Sun battles every day. By eliminating the concrete surfaces throughout Optima Camelview, the community absorbs less heat during the day and loses it quickly at night. Green roofs also help with storm water management, allow for trees that provide natural shading, absorb external noise and re-oxygenate the air. These rooftops are irrigated through a high-efficiency irrigation technology, including a drip system with moisture monitors.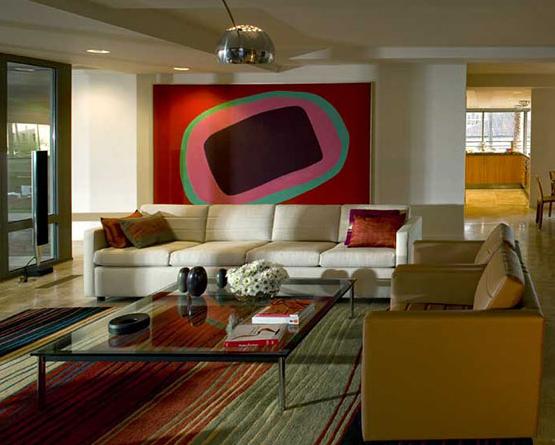 A trademark in Optima homes, windows, constructed of high performance sun protective glass, become walls with floor-to-ceiling glass which creates a subtle division between inside and outside without sacrificing privacy. Captivating views from interior living spaces and exterior private terraces include the highly-coveted silhouettes of nearby Camelback and Mummy mountains.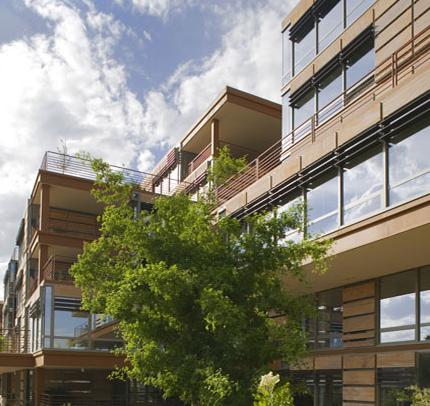 But more importantly, it has established Optima Camelview Village as one of the most eco-conscious projects in the nation. Optima Camelview has also been honored as one of the Top 18 Architectural Achievements in Arizona by the American Institute of Architects (AIA) and AZRE magazine.