Recently named the winner of the Best Small Art Town National Contest for its 100 eclectic shops and world-class galleries, Tubac, Arizona has a rich history dating back more than 350 years.
Located just 45 minutes south of Tucson and with a population of just under 1,400 people, this western town is also home to some rather impressive residences.
Below are five can't-miss Tubac homes that are currently for sale.
1. 80 Kenyon Ranch Road
$2,600,000
Topping the list is a historical staple in Tubac, the Kenyan Ranch. Started in 1936 as a dude ranch, the 75-acre retreat exudes lavish western comfort with a 4,399 square foot main house, 17 guest casitas, and 4 stand-alone homes. The Kenyan Ranch also boasts a 2,000 square foot lodge, commercial kitchen, 3 private wells, hot tub, horse facility, massage rooms, and a sweat lodge. Trees naturally frame the estate, creating picturesque aesthetics throughout.
2. 7 Camino Cocinero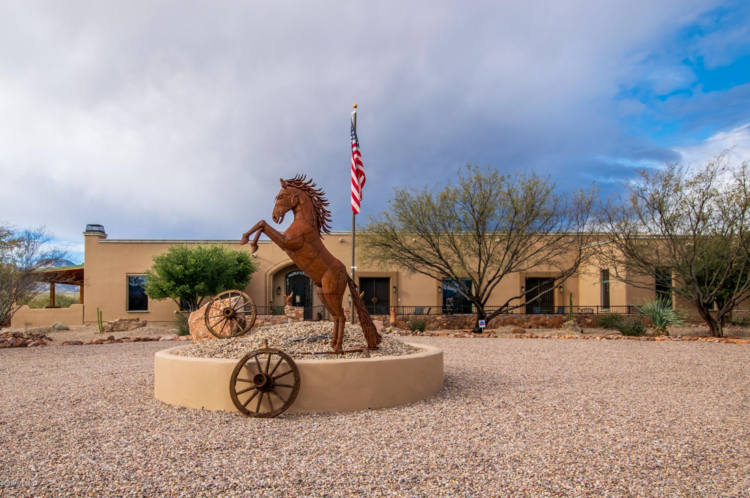 $1,475,000
Next on Tubac's tour is a 5 bed, 5 bath home situated on 5 acres in the wild refinement of Tubac. The entire property is fully enclosed with western rusted steel fencing providing privacy, security, and a pristine desert property. The property also features a 2,000 square feet RV garage, a guest casita, and private walking paths perfect for early evening walks in Tubac. The resort-style backyard features an opulent cobblestone pool with chaise lounges covered in a cabana-like fashion.
3. 22 Avenida Villaescusa
$1,450,000
The next timeless Tubac home is a bright Spanish estate in the Tubac Country Club. The 4,389 square foot estate blends old-world charm with modern amenities creating an elegant harmony. Gracious spaces provide an indoor/outdoor living experience fit for Southern Arizona. The 4 bed, 5 bath estate also boasts soaring windows that invite natural light, a sophisticated courtyard, a grand wine closet, and beautiful desert views on just under an acre.
4. 20 Calle De Hoy
$685,000
This enchanting 2 bed, 2 bath home in the Tubac Country Club Fairway Estates is situated between the second fairway and the third green on the renowned Tubac Golf Course. The 2,212 square foot home features towering Cottonwood trees and forever views of the Santa Rita Mountains. The beautiful home, masterfully constructed out of burnt adobe brick which provides character and quality construction, is Tubac living at its finest.
5. 62 Madera Ct
$675,260
Spanish-inspired architecture and meticulous craftsmanship meet desert beauty at this 3 bed, 3 bath home that is currently under construction and will be situated on approximately 1/2 acre with breathtaking views of the Santa Rita Mountains.
Representing the properties is fifth generation Arizonian Gary Brasher of Russ Lyon Sotheby's International Realty, who can be reached at Gary.Brasher@russlyon.com or by calling (520) 260-4048.