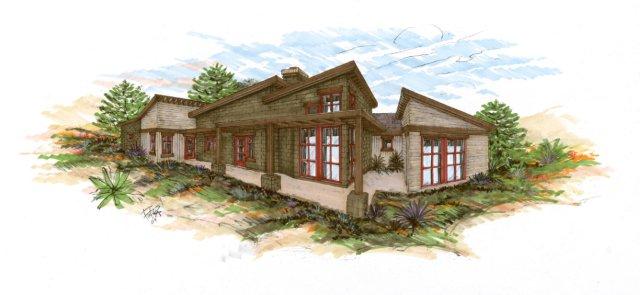 Talking Rock and DLB Custom Homes/TruNorth Architecture Partner on Homestead Five
Custom home meets precision process and timely delivery
Talking Rock, a luxury golf community in Prescott, has introduced Homestead Five, a collection of floorplans designed to not only align with the community's award-winning rustic appeal, but also deliver a custom home with the precision and timing often found only in production home building.
Developed in partnership with DLB Custom Homes/TruNorth Architecture, Homestead Five consists of five one-of-a-kind floorplans that, once purchased, will not be available to any other buyer. An innovative approach, the collection includes the best aspects of both custom and spec homes. Buyers work hand and hand with the DLB team on interior design, landscaping and site specific details but much of the work accompanied with the custom home process has already been completed, greatly reducing build time. Those who purchase a Homestead Five plan will enjoy a truly unique product, benefiting from the same quality workmanship and materials found in all DLB built custom homes.
"When Dan Boylan of DLB approached us with this project, we knew immediately it was something we wanted to pursue," said Jim Jones, director of sales for Talking Rock. "Not only is this a unique concept to many buyers, it is a need that has really never been met. Dan has always delivered a superior product to Talking Rock members and Homestead Five will be no exception."
Floorplans in Homestead Five will remain true to the rustic ranch architecture for which Talking Rock is known, while taking cues from themes found in more modern architecture. Intimate and intelligent floorplans consist of open and interconnected living spaces and interior/exterior breezeways have a strong focus on outdoor living. While each design meets the community's architectural guidelines, thoughtful use of space; pronounced rooflines; and the use of materials such as steel, masonry and concrete provide a forward-looking perspective set against a natural backdrop.
"We feel the Homestead Five collection will resonate with buyers who appreciate the laid back lifestyle at Talking Rock and are looking for the clean lines and functionality of today," said Dan Boylan, Owner DLB Custom Homes.
While each of the plans is unique, common themes can be found throughout Homestead Five. These include the use of high-end finishes, luxurious bathrooms, state-of-the-art, gourmet kitchens, custom landscaping and professional interior design detailing. Plans will range from 2,497 to 2,923 livable square-feet and are priced from the upper $700,000's. The Homestead Five will be introduced to the public June 13th, 2009.
www.talkingrockranch.com
www.dlbhomes.com
www.trunortharch.com