Design and architecture buffs will be looking for ward to the April release of Taschen's newest books in the architectural hardback series.
Architecture Now! 6 Comes out on April 13th.
Architecture Now! Houses Comes out April 30th.
They both cost $39.
Here's a bit of info on the books: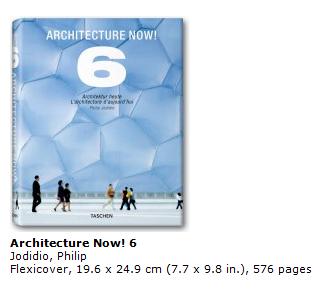 This sixth installment of Architecture Now!, featuring buildings ranging in size from Terunobu Fujimori's tiny (6.07 square meters) Teahouse Tetsu to Norman Foster's gigantic Crystal Island project in Moscow (1.1 million square meters), provides an overview of what is happening right now in architecture, be it of traditional inspiration, or at the very edge of current thinking. What is the spirit of this moment, and how does architecture reflect the creativity as the first decade of the 21st century draws to a close? Architecture Now! 6 is THE reference for what is happening and what is to come. Easy-to-navigate illustrated A–Z entries include current and recent projects, biographies, contact information, and web sites.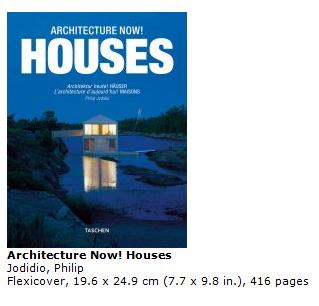 Though there may be distinctions between a house and a home, the fact remains that the fundamental ideas of shelter, life and death are intertwined with the architecture of the commonplace in every dwelling, from cave to castle. The house can be a measure of civilization, wealth or, indeed, intelligence; it is a barometer of existence. Depending on the architect and the client, a house can be at the very cutting edge of architecture, casting aside notions of the past in search of a new paradigm; it can accept the rules of urbanism while standing them on their head. It can float in the air or emerge from the depths of the earth. Where factors of cost may limit civic architecture to tried and trusted methods, some houses break all the rules, and help architecture to move forward. This book is not about decoration, nor is it a practical guide to building one's own house. It is, rather, a search that may lead the willing reader from Patagonia in Argentina to the cliffs of Dover Heights, Australia to see some of the most remarkable houses built in the past five years.
Order them both at http://www.taschen.com