If your searching for a new luxury home, why not try looking at… podcasts? 
In a first for a high-end real estate network, Christie's Great Estates launched a series of luxury lifestyle video podcasts this month, providing potential homebuyers with an in-depth look into the history of a property and the lifestyle it offers. The visually rich podcasts—narrated by the homesellers themselves—are reserved for the most distinguished and facinating estates on the market and are available for viewing on the Video Gallery section of www.christiesgreatestates.com.
 A Home For Art- Inspirador in Arizona
Narrated by noted art Belgian collector Mr. Stephane Janssen, the video podcast of Inspirador in Scottsdale, Arizona, is the featured podcast on www.christiesgreatestates.com. Mr. Janssen provides a guided tour of his Pueblo-influenced home, designed specifically to showcase his more than 4,000 works of art.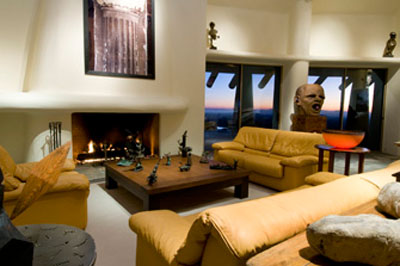 He adds fascinating personal anecdotes about various elements of the residence including the doors, outdoor sculptures, and architectural features—all of which are pieces of art in themselves. The 15-acre property is being offered for sale by Hague Partners for $7.8 million, with international marketing by Christie's Great Estates. http://www.christiesgreatestates.com/properties/video/july09Podcast.htm
America's Living Room- The Historic Evermay Estate
Washington, D.C.'s historic Evermay Estate, also known as "America's Living Room," is a two-century walk back in time. Beginning with the home's construction, which pre-dates the U.S. capital by a full year, the presentation culminates with Evermay's current role as a private meeting place for American presidents, international diplomats, and world-renowned dignitaries. Narrated by third-generation owner Mr. Harry Belin, the video portion is a collage of current property images interspersed with vintage photographs. Evermay is being offered at US$39,500,000 by Long and Foster's Extraordinary Properties Division, with international marketing by Christie's Great Estates. http://www.christiesgreatestates.com/properties/video/may09Podcast.htm
An Artists Escape- Marsha Mason Talks About Rio Abajo Rio
Four-time Oscar-nominated actress Marsha Mason talks with Christie's Great Estates in the welcoming kitchen of her Andalusian-inspired organic farm and estate, Rio Abajo Rio, located outside of Santa Fe, New Mexico. Ms. Mason discusses the home she personally designed and her experiences living in the land made famous by 20th-Century American painter Georgia O'Keeffe. The 247-acre property in New Mexico is being offered for US$7,950,000 by Santa Fe Properties and Briggs Freeman Real Estate of Dallas, Texas, with international marketing by Christie's Great Estates. http://www.christiesgreatestates.com/properties/video/mason.htm