One of my favorite places to visit in California is Carmel By the Sea. A walk down Ocean Avenue yields many unique storefronts and offerings. In particular, I'm always drawn to the Villeroy and Boch store for a peek at the latest in fixtures and faucets.
The German-Headquartered Villeroy & Boch announced this week the introduction of its new collection of bath and wellness products—La Belle—into the US market. Featuring romantic floral décor paired with contemporary design, this premium line includes washbasin variations, water closet and bidet, as well as matching baths, bathroom furniture and faucets. La Belle incorporates modern interpretation of traditional décor, offering consumers the opportunity to design a bath with the look of the romantic era, yet it is transformed into a contemporary offering.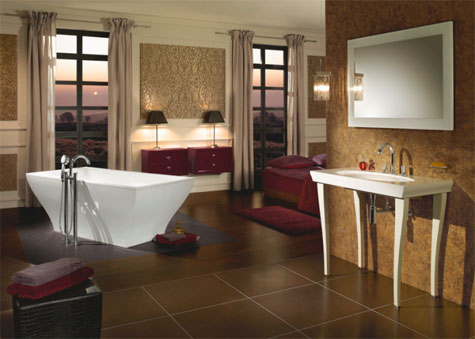 "La Belle is the epitome of a delicate, sweeping aesthetic developed with the idea of introducing harmonious, uninterrupted style to bathroom décor," said Constantin von Boch, director of marketing for the U.S. Villeroy & Boch Bath and Wellness division. "Homeowners who crave quality and originality will appreciate each of the new pieces in La Belle's collection."
Villeroy & Boch's new La Belle collection features several washbasin options, including a 27.5-inch variation as well as a 20.5-inch hand washbasin that is offered with a vanity and a 39.5-inch model available with a console. The aforementioned washbasins are available with the optional La Rose décor—a delicate flower tendril swooping across the ceramic. Another highlight of La Belle is a 33.5-inch surface-mounted washbasin with an arabesque shape. A perfect complement to the straight-lined approach of La Belle, it adds a unique touch to the vanity unit.
Continuing the delicate, gentle look of La Belle, the water closet and bidet, both of which are wall-mounted using SupraFix technology, were designed with a soft curvature. In addition, the collection's freestanding bathtub provides the perfect place to relax and unwind. Featuring soft lines and guaranteeing maximum bathing comfort, this bathtub is made from Villeroy & Boch's high-quality Quaryl material. A floor-standing faucet complements the elegant sweep of the bathtub.
"Through our exclusive partnership with Dornbracht, La Belle can be paired with the stunning LaFleur faucets," continued von Boch. "The new shimmering champagne and chrome surfaces match perfectly with our new collection and adds warm, gold color giving the washing area an elegant and gentle charm. In addition, the faucets feature La Rose, complimentary with other La Belle products."
La Belle also includes a premium furniture line, which extends the unmistakable elegance of the collection. Furniture pieces are available in a glossy white lacquer—a perfect complement to La Belle ceramics, and underscoring the exclusive character of the overall design. In addition, a number of complementary bathroom accessories, such as glass shelves and paper weight, include the La Rose décor, enhancing La Belle's design aesthetic.
Thanks to the beauty and consistency of its design, La Belle meets all the requirements of a designer bathroom. Homeowners who crave originality as well as quality, and those who select furniture that radiates pleasure and luxury will fall in love with La Belle.
For more information or to find a local showroom or dealer, please visit www.villeroy-boch.com/en or call 800.536.2284.