Since 1977, the annual San Francisco Decorator Showcase has benefited San Francisco University High School's financial aid program. The canvas for this year's event is a 1910 Georgian mansion at 2830 Pacific designed and built by San Francisco architect Nathaniel Blaisdell. The 10,000 sq-foot property occupies one of the largest lots on the block of Pacific between Divisadero and Broderick, and features a grand floor plan, a stunning wrap-around rooftop terrace as well as Bay and City views.
One of the rooms we love is the small powder room, as it shows how small places also deserve grand design.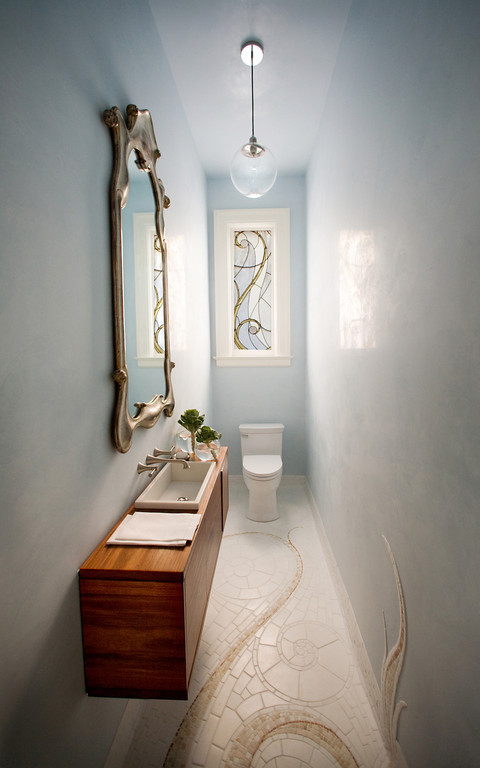 In this room, Marsh & Clark uses exuberant color, classic techniques and custom elements to infuse the powder room with light and life. The award-winning interior design firm transforms a tall and airy space at this year's Designer Showcase, with its signature blend of epochs, materials and styles.
The classic composition of the room is anchored by an exquisite mosaic. The hand-cut marble and limestone form winds across the floor, unfurling gracefully up the pale blue Venetian Plaster walls. This thoroughly modern take on an ancient art form is accented by a cantilevered vanity, which subtly suggests the trabeated forms of Ancient Greek post and lintel architecture. Hand hewn by a local craftsman, the custom vanity is made from FSC-certified, sustainably-harvested machiche hardwood.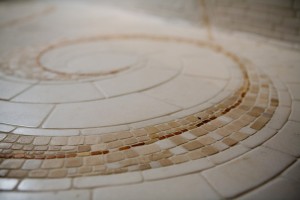 "This room embodies the Marsh & Clark philosophy of uniting traditional craftsmanship and innovative design to make good on the promise of elegant, timeless, sustainable spaces," said Stephanie Marsh Fillbrandt, principal Marsh & Clark.
Marsh & Clark orchestrates the transformation using a sophisticated palate of soft blue and deep orange against a neutral canvass of classic white. The distinctive mosaic composition of white Thassos marble, reclaimed French and Yucatan Ticul limestone cleverly forms an arabesque design, which pulls you into and through the space. Using a combination of modern and ancient techniques, each piece was hand cut and set by local mosaicists.
A local craftsman used hand-blown glass to create a stunning portrait window. The window marries classic stained-glass fabrication techniques with a modern design. The graceful curves of window's design echo the curvilinear form of the floor's mosaic. Afternoon sunlight refracts through the window bevels, casting a spray of rainbows across the room's pale-blue walls.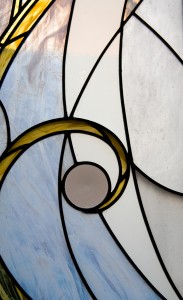 "The nature of an interior designer's work allows creativity, passion and dedication to improve the well-being of others, so it stands to reason that interior designers' skills are called upon to raise awareness and funds for a good cause," said Christiana Ferroggiaro, project manager and designer, Marsh & Clark Design. "Marsh & Clark is honored to contribute to the Showcase's success."
For more information please visit www.marshandclark.com.
Image credit: Elisabeth Fall/www.fallfoto.com