I don't know how comfortable I would be preparing to take a shower and facing a life-sized family photo on my shower curtain. All those eyes looking at me would kind of freak me out. However, this neat idea might be fun for kid's rooms/bathrooms. An innovative new company called PhotoShowerCurtain.com has created a unique new service that transforms any photo into a full size color shower curtain for homes, hotels, spas and the like.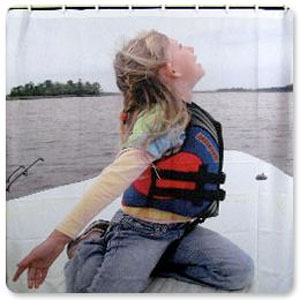 PhotoShowerCurtain.com manufactures one-of-a-kind, custom fabric shower curtains using a wide range of photographic images and digital designs submitted by the customer. So, your kids can have fun with an enlarged image of fido welcoming them to bath  time each evening. Power Shower Curtain says that other companies have offered custom shower curtains in the past in sizes using a small selection of traditional fabrics, or hand painted fabric curtains, or stock designs on vinyl, but before now none have offered a fully imaged photo quality shower curtain.
Photo Shower Curtains are printed using a sublimation process which fuses the image into the fabric to make a permanent, extremely durable, high detail image. The process does not change the feel of the fabric and the image will not fade, crack, or peel. Quality fabrics and state of the art digital imaging yield products with photo realistic durable images that can be laundered repeatedly with no fading or shrinkage.
"We've seen all sorts of curtain images," says PhotoShowerCurtain.com President John Castleberry, who also runs the popular FotoBed.com site that makes photos into a variety of bedding products. "A favorite vacation photo is a popular choice for homes. It is a great way to make your time in the bathroom more fun."  Castleberry says hotels have reproduced paintings and even created artwork for curtains to complement their décor and color scheme. "Artists, designers and photographers love the creative freedom and really get excited when they see their images this large and vibrant."
Orders may be placed on the PhotoShowerCurtain.com site. Single orders are $149 – $199 and shipped free in 2-4 weeks.
To learn more, visit www.PhotoShowerCurtain.com.