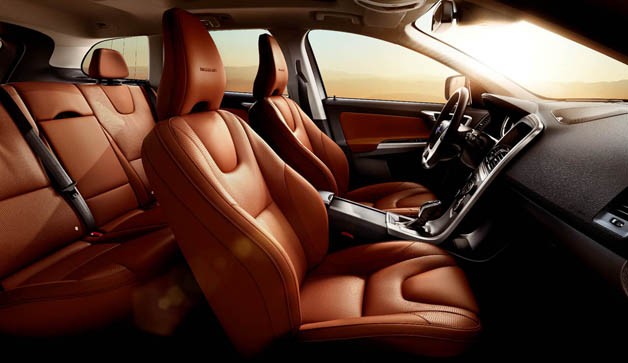 There are two brand names that people immediately think of when they hear Sweden.  Ikea, conjuring images of particle board desks and cutesy wall lamps, is one.  Volvo, bringing to mind a legacy of quality and a unique aesthetic built around practicality, is another.  Today, of course, we will be focusing on the latter, specifically their luxury crossover: The 2012 Volvo XC60, and its new bespoke inscription service.
Sharing Land Rover technology with the Volvo platform, the XC60 is the first real top of the line luxury model offered from the Swedish company.  Already coming equipped with a souped up and decked out luxury interior, the new Inscription service offers another level of personalization and elegance for the buyer with discerning tastes.
The Inscription buyer can choose between four colours on the seats, fully upholstered in fine semi-aniline quality leather. The XC60 Inscription package also includes several other distinctive interior features and the possibility to spice up the kerb appeal with additional options like the charcoal headliner, special effect paint and 20-inch wheels.
"Many consumers we talk to have very exclusive, individual tastes. The Inscription version is designed around their preferences, by offering the opportunity to give the XC60 a highly personal touch," says Doug Speck, Senior Vice President Marketing, Sales and Customer Service at Volvo Car Corporation.
The XC60 Inscription customer has a choice of four upholsteries in full semi-aniline leather: Marble White, Toscana Tan, Off-black and Soft Beige. They are accompanied by either an Off-black or Sandstone Beige interior.
Pricing has yet to be announced for the new XC60 Inscription service, but Volvo has promised worldwide availability opening up this month.