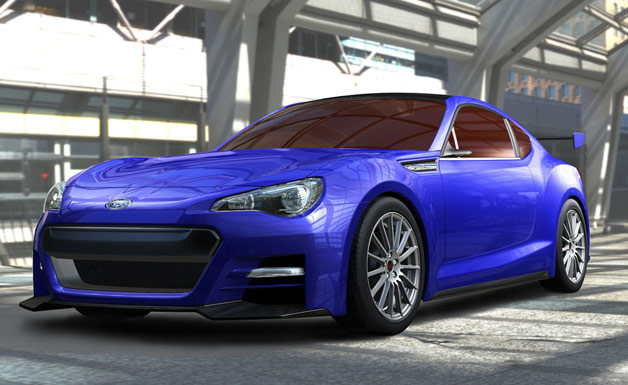 Many things may come to mind when one thinks of the Subaru brand.  Reliability(one of the most reliable brands on the market in fact), practicality, hyper active soccer moms, really exciting television commercials for their Outback model, any of these associations would be likely and appropriate.  What would be less expected is for anyone to associate the Subaru brand with a high end sports car, but with the debut of the new light weight, rear wheel drive Subaru BRZ STI concept at the upcoming LA Auto Show, all of that might change.
While the engineers might want to argue that the "sport" in a sport car is in the engine, we intuitively know that the key, at least historically, has been evident in the visual cues.  You know a sports car when you see it.  Sleek, low and tightly coiled bodywork blends with STI performance touches for a sporting profile.  A hexagonal front grille, hawk eye headlights and fin-shaped fog lamps are instantly recognizable as Subaru.  The exterior colour "WR Blue Pearl II" is a new generation of the iconic WR blue paint scheme that has adorned both racing production STI's.
The body is set-off with aero-tuned lower front spoiler and unique rear fascia, a rear wing for added down-force and a carbon-fiber roof to lower its already record setting center of gravity specification.  The rear design features bold rear fender flares and large rear-diffuser giving way to polished stainless-steel quad-tailpipes.  Vented rear bumper corners contribute to improved aerodynamics performance.
The concept car employs the totally new Subaru "FA" Boxer engine exclusively designed for the RWD BRZ sports car.  In order to achieve properties best-suited for the BRZ sports car, the overall structure of this 2.0-liter naturally-aspirated four-cylinder boxer engine has been designed with a square bore and stroke of 86 X 86 mm.  The inherent qualities of the Subaru Boxer engine were mated to a direct injection fuel system, which further improves combustion efficiency, running smoothness up to high rpm and high environmental standards.
Phoenix Valley auto and tech enthusiasts should seriously consider taking a road trip out to Los Angeles in late November for the LA Auto Show, a popular platform for the worlds leaders in design, engineering, and electronics to debut their most cutting edge concepts and developments.
Phoenix Valley auto enthusiasts should also plan on attending the Phoenix Arizona International Auto Show to learn about the most recent concepts and innovations from Subaru, as well as the rest of the auto industry, taking place at the Phoenix Arizona Convention center over Thanksgiving weekend.