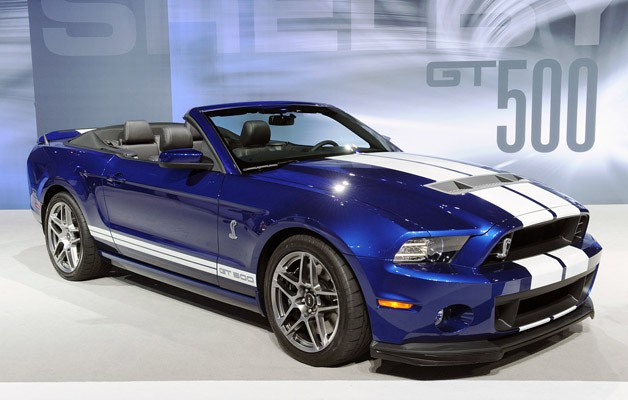 Ford has been paying lip service to reviving their muscle car heritage and legacy for years now, but up until recently we haven't seen very much in terms of results.  That is all changing direction now with the debut of the Shelby GT500 Mustang, a modern muscle car to top all muscle cars, both in terms of exterior styling and the engineering effort put in under the hood.
The ultimate Ford Mustang – Shelby GT500 – raises the bar high on performance by delivering 650 horsepower and a track-tested top speed of more than 200 mph. The 5.8-liter supercharged V8 aluminum-block engine produces 600 lb.-ft. of torque, making it the most powerful production V8 in the world.
In addition to the specs listed above, every part of the body design has been keyed in with the goal of optimizing horsepower output, including a new supercharger, new cross-drilled block and heads, updated camshaft profiles, a new carbon fiber driveshaft and upgraded clutch, transmission and axle
Just after the debut of the coupe model, Ford debuted the convertible GT500:
"The Shelby GT500 convertible is every bit the performer that the coupe is," said Kerry Baldori, SVT Global Performance Vehicles chief engineer. "All of the significant changes we made in the program were instrumental in delivering a convertible that could really shine on the track but can still be driven on a daily basis."
The convertible vs coupe option is just one of many examples of the choices in customization that Mustang GT500 buyers have available to them.  The best part is that this week the customization options have gone online.
From wild color schemes to top of the line audio systems, the Ford online custom configurator is a great way to spend some time indulging the automotive designer which resides within every true car lover.
Phoenix Valley automotive  enthusiasts can learn more, view, and test drive any current production model Ford at their local Phoenix Valley Ford dealer.