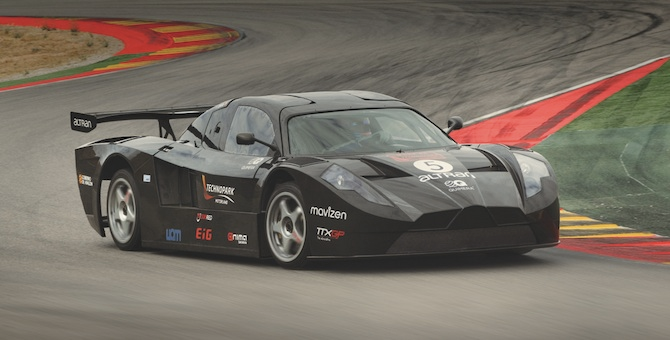 Elon Musk, the man, the myth, the entrepreneur and innovator extraordinaire, has long been a shining example of the self made go getter, and an example of innovation in the private sector.  His luxury high performance vehicle brand, Tesla Motors, has been setting the standard for high performance electric vehicles in recent years.  But Elon Musk and Tesla Motors has a quasi government and quasi non-profit beast of an electric vehicle ready to make some very big waves on the EV scene.  The Quimera All Electric GT (AEGT).
The Quimera All Electric GT  possesses three electric motors which distribute 700 bhp.  Sprinting from 0-62 in 3.5 seconds and weighing in with a carbon fiber body at just over 3,300 lbs.  This weight places it at 1,200 lbs. heavier than the ToyotaP001 we here at Vroom wrote about last week…but the apparently that 1,200 lbs. is going somewhere, because the ToyotaP001 isn't doing 0-62 in 3.5 seconds.
The  Quimera All Electric GT (AEGT) is not a production model from any particular auto manufacturer, but is actually the result of a collaboration between various public and private, government and industry based organizations seeking to develop more efficient and high performance sustainable transportation technology for the urban center of the near future.
"The AEGT is a living laboratory to test all the selected technologies," said Alfonso Martinez, executive mechanical engineering director for Altran, the main technology provider for the AEGT project. "This first prototype has been designed in a very short time just to prove the validity of some unique design concepts and test the main performance targets of the vehicle."
Phoenix Valley auto enthusiasts can view and test drive any current production model Toyota, Chevy, Ford, or any other EV model from auto manufacturers who are doing exciting things in the way of electric vehicle technology, at any of their respective Phoenix Valley dealerships.  Phoenix Valley auto enthusiasts should plan on attending the Phoenix Arizona International Auto Show to learn about the most recent concepts and innovations in the way of electric vehicle technology, taking place at the Phoenix Arizona Convention center over Thanksgiving weekend.