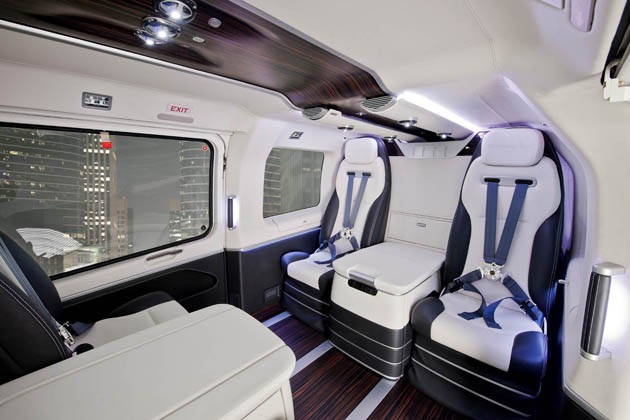 Anyone who has ever driven a Mercedes Benz can tell you, there is something about the interior, the way all of the wood and leather is laid out, it creates an atmosphere of both unpretentious comfort and purposeful luxury.  There an ineffable quality about the interior design of a Mercedes-Benz.  When you couple that interior design finesse and know-how with some of world's top mechanical prowess, one can hardly ask for anything more in an automobile.  There is only one weakness.  They can't fly.  That is, not until now.
Eurocopter recently unveiled it's new luxury model, the Benz styled EC145.  With hardwood floors and a wood lined ceiling, this luxury 8 passenger helicopter pulls no punches in the area of class and comfort.  Created in the Mercedes-Benz Advanced Design Studio in Como, Italy, the helicopter interior is laid out in a modular fashion, which makes for unending customization options.  If the customer wishes one wall to be focused around a large plasma screen tv, then the lush interior can be worked around that.  If the customer wants an atmosphere conducive to long conversation over champaign, the interior can easily suit that desire as well.  The EC145 is basically a high power corner office mixed with a boardroom mixed with a luxurious living room, or whatever combination thereof the customer should desire.
The EC145 as a regular helicopter has been around for some time now.  With the first model year beginning in 1999, the EC145 has established itself over the past decade as a leader in high performance and versatile aircraft.  Having been used for search and rescue, emergency medical transport, and military light aircraft, this venture reveals a new and luxurious side of an already established brand.
Any Phoenix Arizona customer  interested in purchasing an EC145 need only contact Eurocopter, though with an estimated buy in price of $13m, Phoenix Valley aviation enthusiasts may wish to consider leasing an EC145 before making a final purchasing decision.  Phoenix Valley auto enthusiasts who may feel inclined to take a look at some of the more recent models coming out of the Mercedes-Benz luxury powerhouse can do so at any Phoenix Valley area Mercedes-Benz dealer.