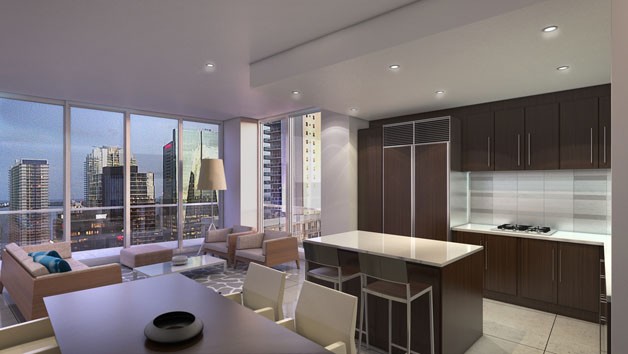 Miami, perhaps more than any other city in the US, holds a special place in the American geographical imagination.  Whether it be salsa dancing, Scarface, or Miami Vice that comes to mind, there is always some attachment to notions of exoticism and extravagant excess.
Porsche played off of this image last November when they announced the plan for the Porsche Design Tower in Miami.  The project is a joint effort between the Porsche Design Studio and real estate developer Gil Dezer.  The 57-story block on 2.2 acres of choice Collins Avenue real estate is planned to to incorporate 132 housing units, each with its own parking spaces…parking spaces that double as elevators.  Miami excess for sure, but if luxury is the key word, then excess is not always a bad thing.
Since the announcement last year, nearly all of the spots at Porsche Design Tower have been reserved with a hefty deposit.  Not to fear though, because across town another luxury automotive outfit is building its own luxury residential tower.  Developed by the Related Group and designed by Uruguayan architect Carlos Ott, the project has taken Pininfarina on to design all of the interior spaces of the building.  This will be the first such project that Pininfarina has undertaken in America.
The amenities of the building, well-dressed by exotic woods and Italian leathers by Pininfarina, will include a ninth floor elevated pool deck with a club room, state-of-the-art fitness center, private theatre and 42nd level rooftop infinity pool with private cabanas.
"With our first residential project in the U.S.," says Paolo Pininfarina, Chairman of Pininfarina Group, "We will bring all our passion and Italian flair to Miami. We are pleased with partnering up with Related Group. We couldn't have chosen a better, more reliable partner in the U.S."
While Phoenix Valley residents have no need to snowbird elsewhere, one can always use a condo in Miami for…well, any one of the Miami images listed above.