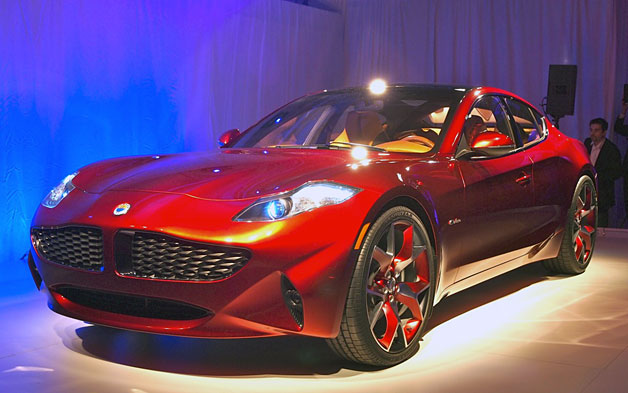 The Fisker Karma has only recently come out, and to mixed reviews.  While it has been praised as a fine example of a luxury plug in hybrid sedan, it has been criticized for a faulty battery system.  While there have been some bumps along the road in recent months, the Karma still stands as a fine example of sustainable luxury, and the company has addressed the battery issues, announcing recalls and extending warranties.  In an effort to bring the company back from the edge and reclaim its spot alongside Tesla as a high quality luxury plug in car manufacturer it has announced a new concept vehicle this week at the New York Auto Show: The Fisker Atlantic.
The Fisker Atlantic concept is a luxury four-door sporting sedan with an interior built for everyday practicalities. It is being marketed towards young families who want to drive a luxury high end vehicle while also making a powerful statement about sustainablility and economy.
The Atlantic uses the latest second generation EVer (Electric Vehicle with extended range) technology. This technology offers all the benefits of electric drive while at the same time eliminating the "range anxiety" experienced with an all-electric powertrain(look out Tesla).
"We are exceptionally proud of the Atlantic design prototype, and believe we have created another groundbreaking car that looks and will drive like nothing else on the road in this class," said Henrik Fisker, co-founder, Executive Chairman, and Design Director of Fisker Automotive.
Fisker, while young and prone to some manufacturing mistakes, IS a visionary enterprise which is trying its hardest to change the way we as an automotive public view the nature of luxury and sustainability.
"I"m confident the Fisker Atlantic will inspire people and win the brand many new customers who may not have considered an EVer powered vehicle like this before," said a Fisker spokesperson.
More details on the Fisker Atlantic, including statistics, prices and an on-sale date will be given closer to the launch of the production car
Phoenix Valley automotive enthusiasts can view and test drive any current production model Fisker at any of their Southern California locations(currently the nearest to the Phoenix Valley area).