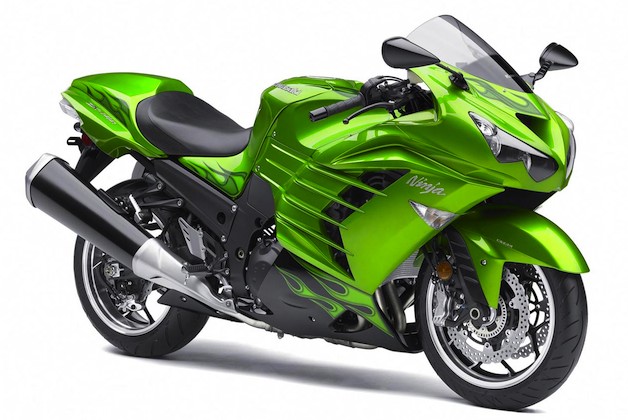 Kawasaki is the Wired Magazine of the motorcycle world.  What I mean is: Wired Magazine has a young, intelligent, and aesthetically discerning readership.  Kawasaki tends to appeal to the same demographic in the world of the two wheel enthusiasts.  There is something about a Kawasaki that sets it apart from not only American and European bikes, but also the rest of the Asian sport bike market.  The Kawasaki brand possesses a certain appeal to a love of progress and technology, and maintains an outward aesthetic of positive futurism, a future where in a high tech Utopia (like Akira except happy) every able bodied single person would use a sleek and ultra efficient mode of personal transport, brilliant in execution, magnificent to the eye and spirit, yet without a hint of excess.  Of course, not all of this is present as a conscious thought while riding, that would likely ruin the point.
Kawasaki is furthering its high tech, tasteful, and intelligent brand by releasing images of the new 2012 ZX-14R, a motorcycle that will feature new electronic enhancements, a reworked engine and slightly restyled bodywork for next year.  While visually beautiful, Kawasaki has been a little skimpy on the details, except to mention that this will be the worlds fastest accelerating production motorcycle.
The engine block will be stroked to 1,441cc while the cylinder head will be ported and polished for greater flow.  In addition, the ZX-14R will make use of a higher compression ratio and new cam timing.
In addition to the reworked innards, the 2012 ZX-14R will also come with traction control for the first time as well as a throttle-by-wire system. The KTRC traction control system will offer the rider three different settings, all selectable from the handlebar and viewable from the gauge cluster. The bike will also feature a few changes to the frame for a little more rigidity.
Phoenix Valley auto enthusiasts can view and test drive any current production model Kawasaki at any Phoenix Valley Kawasaki dealer.  Phoenix Valley auto enthusiasts should plan on attending the Phoenix Arizona International Auto Show to learn about the most recent concepts and innovations from Kawasaki, as well as the rest of the auto industry, taking place at the Phoenix Arizona Convention center over Thanksgiving weekend.