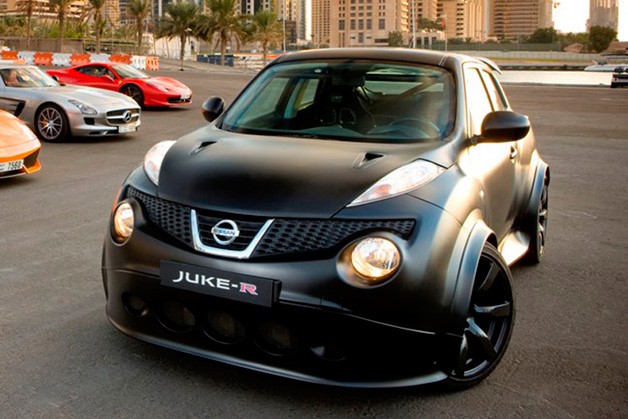 LONDON, United Kingdom: Today (Thursday, 3 May, 2012) – Nissan held a press conference to announce that the high performance and controversial Juke-R concept will soon enter production on a very limited run on a build-to-order basis.
Phoenix Valley automotive enthusiasts may remember the Juke R for the controversy that it stirred in the aftermath of its loud and splashing debut in Dubai this past January.  Originally conceived as a side project by UK based Nissan engineers, the designers received some harsh words upon the release as the concept was never officially approved by the home office in Japan. As luck would have it for the engineers however, the concept was a major success, prompting requests from wealthy Dubai residents for production models on the spot.
Nissan is already in the process of building three Juke R's as per request, and plans to build more Juke R's upon request. Later this year a small production run will get underway, whereupon interested customers can order from a very small surplus instead of having to wait for the car to be built from scratch.
The Juke-R which debuted in Dubai was based on the MY10 GT-R running gear. The engineers and designers, not having full backing, had to work with what they could get their hands on. The official production run, however, will feature the drivetrain and chassis of the MY12 GT-R. This pushes the boundaries of hot rodding performance a bit further, with 545 horsepower pushing the Juke R to 160 mph.
Gareth Dunsmore, Marketing Product Manager for the Juke, said: "The Juke-R was originally intended as a one-off concept to marry two of Nissan's most innovative models. But the reaction we had to the car in Dubai was amazing – people were making offers for the original on the street!
"With such a strong reaction, and with three genuine offers on the table, we decided we had to make the car a reality. We can't let down enthusiasts who are this keen to add to their collection of cars. The Juke-R has become something of a phenomenon and I'm enormously proud of the impact it has had. There will be more news to come on Juke later in the year."
Phoenix Valley automotive enthusiasts wishing to register an interest in purchasing Nissan's most innovative Crossover yet should contact Juke-R@Nissan.co.uk.
To coincide with the announcement, Nissan is also launching a cinematic online movie today at http://www.facebook.com/NissanJukeOfficial, in which the Juke-R stars