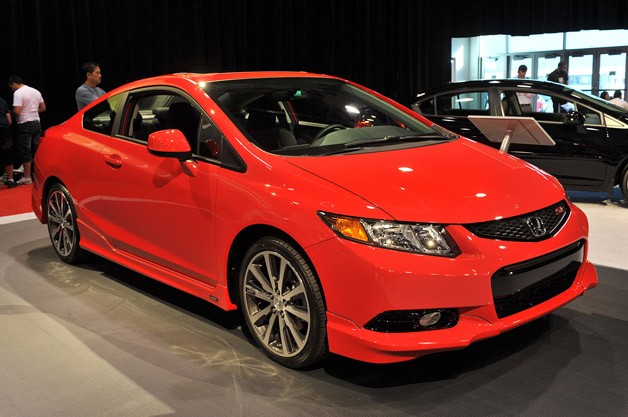 The new 9th Generation 2012 Honda Civic debuted this year to lackluster reviews and complaints from long time users of the popular brand.  Consumer Reports even went as far as to remove their recommendation of the Civic, an invaluable recommendation which the vehicle had carried with pride for generation upon generation of its production.  Critics complained of everything from cheap plastic interior components to a long stopping time to poor road to driver feedback.  Honda responded with this:
"We take feedback seriously, regardless of who it's from, and we will act accordingly quickly," John Mendel, American Honda executive vice president.
The good news for both consumers and Honda share holders is that they seem to have done just that, their promise of a quick response delivering two near future to immediate solutions.  The first solution was a large scale overhaul of the Civic brand for 2013, essentially scrapping the 9th generation of the vehicle and moving directly on to the 10th.  The other is a mixed factory dealer upgrade in a special 2012 edition Civic Si HFP package.
This limited edition Civic Si Coupe HFP packs an upgraded suspension (including new springs that drop the ride height by 15 millimeters and high-performance dampers), special 18-inch alloys, full body kit, wrap around spoilers, the requisite special badging and some interior enhancements, all from the Honda Factory Performance catalog.
"The Honda Civic was instrumental in the first import-tuner movement in the U.S. during the '80s," said Bruce Smith, a Honda vice president. "The all-new Civic Si builds on that proud history by offering inspiring performance, improved fuel economy and a great platform for personalization."
While many would say that it would be wiser to just wait until the overhauled 2013 model is released next year, the limited edition model pictured and detailed above does hold some appeal and charm all its own.  PLUS: The original 9th generation will only be produced for 2012.  When you add on a special limited edition package to an already hyper limited model, you have the opportunity to get your hands on a potential collectors item and a modern piece of automotive history.
Phoenix Valley auto and tech enthusiasts should seriously consider taking a road trip out to Los Angeles in late November for the LA Auto Show, a popular platform for the worlds leaders in design, engineering, and electronics to debut their most cutting edge concepts and developments.
Phoenix Valley auto enthusiasts should also plan on attending the Phoenix Arizona International Auto Show to learn about the most recent concepts and innovations from Honda, as well as the rest of the auto industry, taking place at the Phoenix Arizona Convention center over Thanksgiving weekend.