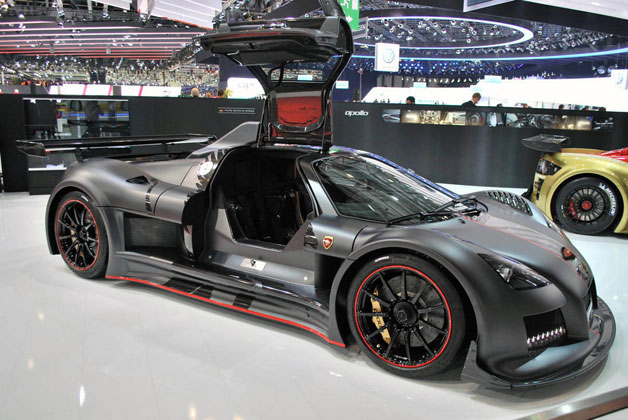 Gumpert is a brand name synonymous with the cutting edge.  A very new company(founded in 2005), Gumpert has quickly established itself as both a generator and manufacturer of high class and high concept super sport cars.  Their debut model, the Gumpert Apollo, has undergone multiple improvements and redesigns in its lifetime.  Now the German super car company has debuted the most recent improvement on an already spectacular machine, the Apollo Enraged.
While the founder of Gumpert, Roland Gumpert, comes from the professional racing world as the former director of Audi Sport, one of the key values built into the foundation of Gumpert is that any car they produce, no matter how fast or dazzling a concept one may dream up in the engineering studio, must be street legal.
"Race cars are not entirely new to us," says Roland Gumpert about the latest model from Altenburg. "After all, we competed in the 24h at the 'Nürburgring' race course with Heinz-Harald Frentzen in a hybrid Apollo in 2008." Increased demand, especially from Asia, has now prompted the company to offer a pure race car in addition to the street legal Apollo and Apollo S models. "Many of our customers are driving their Apollo on the racecourse, usually during track days or private events. With the Apollo r, we allow ambitious drivers among them to participate in open GT events," continues the manager of the manufacturing company.
This sort of philosophy and expected customer base puts Gumpert in a unique position as a brand.  Their customers, while well off and high status, do not buy their vehicles as status or style symbols.  They buy them to race.  This poises Gumpert directly at the intersection where elegant luxury and ridiculously high performance meet.
"Ok, so perhaps it is a bit crazy to take the most extreme, barely still street legal vehicle and make it even more extreme," says Roland Gumpert about the limited special edition enraged – the unleashed and furious apollo. "But the idea behind the enraged, just like the apollo r itself, embodies our philosophy and our understanding of PURE GERMAN SPEED with absolute consistency."
Phoenix Valley automotive enthusiasts who would like to get their hands on the Gumpert Apollo Enraged should keep in mind that, as of this being posted, the production of the Apollo Enraged is being limited to three.  Thats right, three.  Thats about as exclusive as a production model car can get.  We here at Vroom predict that once the Apollo Enraged gets some more face time at trade shows and on the track, people will be demanding it, and a full production line for either 2013 or 2014 will be ordered.