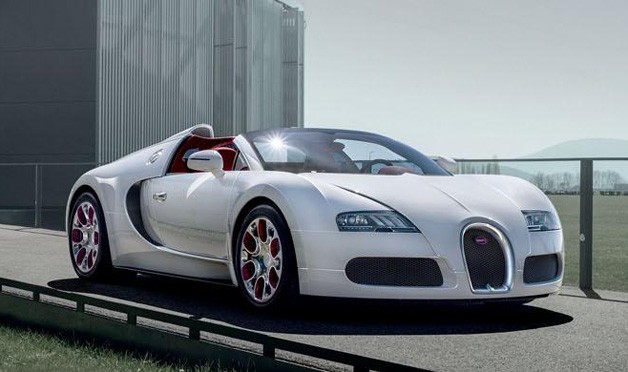 If there is one commonality between all high end luxury items, it is the desire of the quality connoisseur for it to be unique, a one off, for it to have its own special fingerprint.  Architects build custom homes, sculptors and carpenters build custom furniture, tailors make bespoke suits, it is a fairly common thing for those who know what they want to order it to exact specification.
Why should it be any different with a fine automobile?  Many luxury car manufacturers and design houses have been asking the same thing in recent years, and Bugatti's latest debut in Beijing is just one such example.
Called the Wei Long edition, this one of a kind Veyron was built to commemorate the Year of the Dragon in China. Birthed out of a partnership with Königliche Porzellan Manufaktur, the same partnership that gave us the immaculate blue-and-white Grand Sport L'Or Blanc edition, this unique Bugatti is painted white with red trim.
On the one hand this vehicle is a marketing tool to attract the Chinese public to the Bugatti brand (China is one of if not the largest market for luxury automobiles in the world), and on the other hand it shows the public worldwide just what one can do in the customization process of one of their fine automobiles.
Of course, this debut also serves to highlight Bugatti's newer open-top Grand Sport model.
Following the success of the Veyron 16.4 Super Sport, Bugatti did not wait long before the company received inquiries about an open-top version of the Grand Sport that could also deliver 1,200 hp.
"We were instantly electrified by the idea of transferring the power of the Super Sport to the Grand Sport, that delivers a maximum of 1,001 hp, thus taking the roadster to a new level," says Wolfgang Dürheimer, president of Bugatti Automobiles S.A.S.
He continues: "Our team has managed to transfer the world's most powerful car engine to the open-top sports car, while taking the vehicle's dynamics and aerodynamic parameters into consideration. We are proud to present the fastest roadster ever at the Beijing Motor Show with the Asia premiere of the 1,200 hp Grand Sport Vitesse."
Phoenix Valley luxury and performance enthusiasts can inquire with Bugatti Scottsdale as to how to get their hands on their own custom Bugatti, whether it be a Veyron or a Vitesse.  Be warned though, while a production Bugatti runs roughly $1,000,000, you can add on another half million for a custom model.