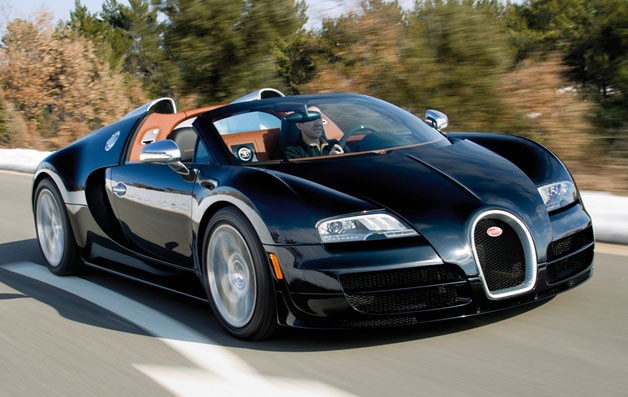 Whether it is a UN Peace Accord or a groundbreaking new piece of automotive engineering, Geneva Switzerland is the place for massive debuts and unveilings.  Bugatti Automobiles S.A.S. has said that they are going to unveil the most powerful roadster of all time, the new Bugatti Veyron Grand Sport Vitesse, at the 82nd International Geneva Motor Show at the beginning of March.
Bugatti's engineers have developed the current Grand Sport, with its 1,001 HP and 1,250 Nm, into an even more powerful vehicle. The Vitesse's maximum torque is now an impressive 1,500 Nm. The increased power of the new roadster's 16-cylinder engine is made possible by the four enlarged turbochargers and intercoolers. The chassis has also been modified to support the power increase.
The Vitesse therefore also ensures the supreme range of excellent features one would expect of a Bugatti super sports car, from precise driving dynamics to extraordinary acceleration and braking.
"The rapid success of the Super Sport convinced us to increase the performance of the Bugatti roadster. Once again our engineers worked hard to demonstrate that Bugatti is able to constantly redefine the boundaries of what is technically feasible," reveals Bugatti President Wolfgang Dürheimer. "We gave our all to transfer the achievements of the Super Sport over to the Grand Sport, thereby turning open-top driving itself into an extraordinary experience at high speed."
Phoenix Valley automotive, performance, and luxury enthusiasts can view any current production model Bugatti at Bugatti Scottsdale.  If you are in the market for a your first super car, or are merely seeking an upgrade, taking a trip down to Bugatti Scottsdale is sure to be nothing but a pure delight.