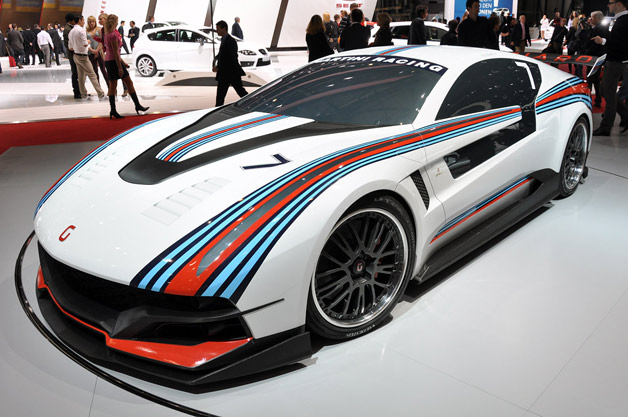 The Phoenix Valley area, with its flat and straight grid system and its built in car culture, is the ideal setting for a dystopian/futuristic film about the street races of tomorrow.  For those of us who wish to bring the street rod racing future of the Phoenix Valley area into the now, we here at Vroom present to you the latest concept from Itladesign Giugario: The Brivido (Italian for "Thrill…!").
The Brivido is a cross between a Fast and the Furious/Tron hybrid, and a pratical cruiser. For its 42nd appearance at the Geneva International Motor Show, Italdesign Giugiaro makes the world premiere of a functional, hybrid, four-seat prototype developed on the mechanics of the Volkswagen Group. Capable of reaching 62 MPH in 5.8 seconds, with a maximum speed over 170 MPH without compromising on-board comfort or space, and inspired by technological innovation, the name of the car-Brivido ("Thrill")-sums up its soul.
"For the last few big appearances at the Geneva Motor Show," explains Giorgetto Giugiaro, "I focused my research on cars that offered great roominess with compact dimensions, and proposing concrete solutions to concrete problems.
Thus the Brivido fills that rare space, a space that so often goes overlooked at the high performance end of the automotive design industry, the ultra sport car that also offers a comfortable ride for four.
"This is a quest for a genuine four seater," continues Giugiaro, "to offer comfort and visibility, especially for the rear passengers, which is usually sacrificed in this type of vehicle. As always, I've tried to offer solutions which can be achieved practically. The inclusion of a pair of wide doors that rise like gull wings is the only "exotic" concession which makes the Brivido a show car. The rest of the solutions are perfectly applicable for vehicles destined for the market. The rear passengers, specifically, can access their seats without having to duck down or lower the front backrests. Instead they can enter the vehicle easily and naturally".
The car is being presented as a sort of cross between a concept and production car: it is a concept now, but it is fully realized and ready to go into full production.  Italdesign Giugiaro exists under the Volkswagen umbrella, thus any Phoenix Valley automotive enthusiasts who wish to purchase a production model of the Giugiaro Brivido should contact their local Phoenix Valley Volkswagen dealer.