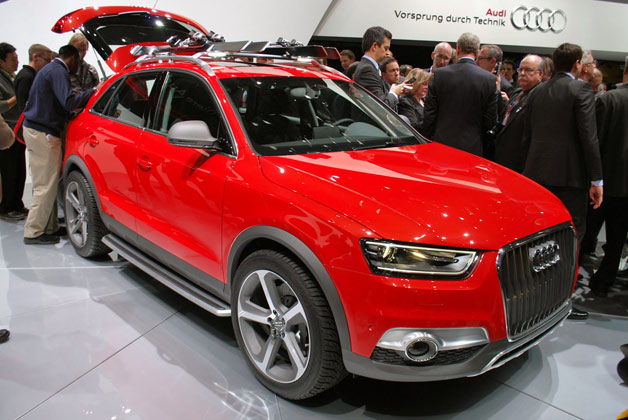 Audi is quickly situating itself on the global forefront of the luxury crossover SUV.   The German luxury auto manufacturer has chosen the recent Detroit Auto Show as the international stage at which to debut their new Q3 Compact Crossover.  The Q3, according to Audi, will be making the trek to North America as a production vehicle sometime in the very near future.
The Audi Q3 Vail represents a new, potential variation on the SUV concept. The Q3 model debuted in Detroit was designed with a theme in mind, that of the winter sports enthusiast.  While Phoenix isn't the first place you might imagine a winter sports enthusiasts residing, the fact is that one has access to winter sporting environs within a relatively short drive, roughly 6 months out of the year.  After a Phoenix summer, or leading up to one, it makes perfect sense that nay right minded Phoenician would enjoy a coast down the slopes, be it skiing, snowboarding, or sledding.  You are going to want the right vehicle for a worthwhile winter escape.
The Audi Q3 Vail is a sporty and robust compact SUV offering many practical attributes, an elegant appearance and individual design highlights.  The interior of the Audi Q3 Vail includes two practical devices for winter sports fans.  The side wall of the trunk houses a charging station.  It can be used for storing flashlights and charging them inductively at the same time.  The same technology is used for the Thermos bottle. It is located in the cup holder between the front seats and is able to chill or warm drinks.  Both devices have LEDs that show the current charge level.  One attractive extra is that, in addition to LED lighting, the flashlights incorporate an infra-red heating element that can be used for warming your hands or a pair of ski boots.
Keep tuned to Vroom for updates one when you can expect to find the Q3 Luxury Crossover at Phoenix Valley Audi showrooms.  Phoenix Valley auto enthusiasts can view and test drive any current production model Audi at their local Phoenix Valley Audi dealer.