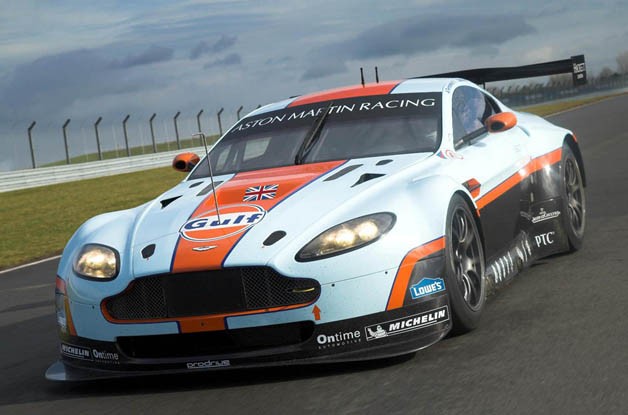 Their are a few distinct images we associate with Le Mans: Steve McQueen, Mario Andretti, tight corners at high speeds, and a unique combining of a high end soiree atmosphere with the exiting masculine energy of the race track in a way that only it's French hosts could put together.  In addition to these and many other associations, we can also add the spirit of invention and industry advancement, because this year Aston martin has chosen to debut its new Vantage GTE racing machine.
The Vantage GTE is a development of the Vantage GT2, with significant improvements to all areas including the engine, drivetrain and suspension.
Aston Martin Lagonda Chairman David Richards shared his enthusiasm for the new project: "It's great to be returning to our core motorsport activity; production-based GT racing. It formed the basis for Aston Martin's return to competition when the DBR9 GT1-racer was launched in 2004, and it was in GT racing that we achieved our famous victories at Le Mans in 2007 and 2008.
"The GT category is also now the most competitive class in world sports car racing and with the new FIA World Endurance Championship the GTE class will, I believe, offer the closest fought and most exciting spectacle. We will see many premium sports car brands competing with great sounding racing cars based on their production models, which all the fans can relate to."
Team-mate Stefan Mücke explained the team's ambitions for its first year in the FIA World Endurance Championship: "I'm really looking forward to racing the Vantage GTE and I'm optimistic that the car will be competitive. We always aim high and target podium finishes at every race, but we are also determined to prove the speed and reliability of the Vantage GTE in 2012."
Aside from a two-car campaign at the 24 Hours of Le Mans, Aston Martin will also host the inaugural Aston Martin Racing Festival, which gives all owners of its GT competition cars the opportunity to participate in an exclusive 45-minute race on the 8.5-mile Circuit de la Sarthe on the morning of the 24-hour epic.
While it can be difficult to get one's hands on an authentic Aston Martin Le Mans racing vehicle, money does have a way of finding things.  For those Phoenix Valley automotive enthusiasts who may not be starting their own automotive museums, the many advancements and benefits of the new Vantage GTE will find their way into production Aston Martin vehicles, likely showing up on Phoenix Valley showroom floors within the next year or two.