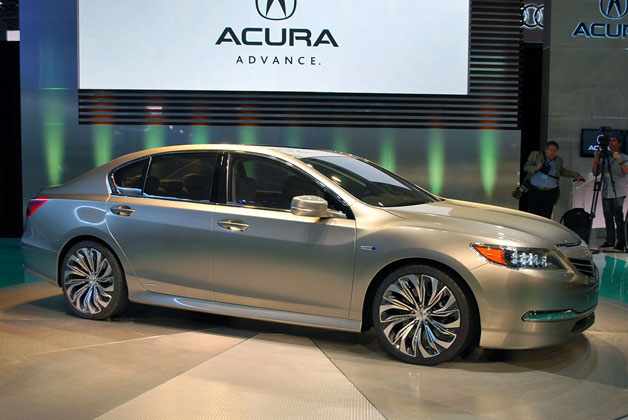 When we think of premium automotive brands coming out of Japan, we often think of Lexus…and then that's pretty much it.
Acura (Honda's luxury car wing), has faded into a painful obscurity with the ho hum mediocrity of the RL.  At the same time Lexus (Toyota's luxury car wing) has come to the forefront with the high performance cutting edge innovation as seen in the Lexus LFA.
This fact and disparity of recent history has not been lost on the team over at Acura, who, like mad gardener trying to revive a dying fichus plant, are in a mad dash to revive the fading Acura brand.  Its plan?  the Acura RLX Concept vehicle, debuting this week in New York.
"We have created a true luxury sedan based on our Acura DNA," said American Honda president & CEO, Tetsuo Iwamura. "This means achieving advanced performance through engineering efficiency to create a unique synergy between the vehicle and its driver. Inside and out, on the open road or city streets, the sophisticated and elegant Acura RLX will offer a level of connectivity, comfort and advanced performance demanded by today's luxury buyers."
Acura has also announced that the production RLX will be offered in a 310-horsepower, front-wheel-drive version, which will also deliver superior handling performance through the application of another new Acura technology- Precision All Wheel Steer.
While the Acura RLX concept comes nowhere near competing with Lexus as a luxury platform, it will hold a certain appeal for those who are in the market for understated luxury and elegance, interior room, and a hybrid mid-size design.
Phoenix Valley automotive and luxury enthusiasts should keep an eye tuned to Vroom for further updates on when the RLX Concept will go into full production and hit the sandy shores of the Phoenix Valley area (likely sometime in the middle of 2013).  Phoenix Valley car lovers can view and test drive any current production model Acura at their local Phoenix Valley Acura dealer.