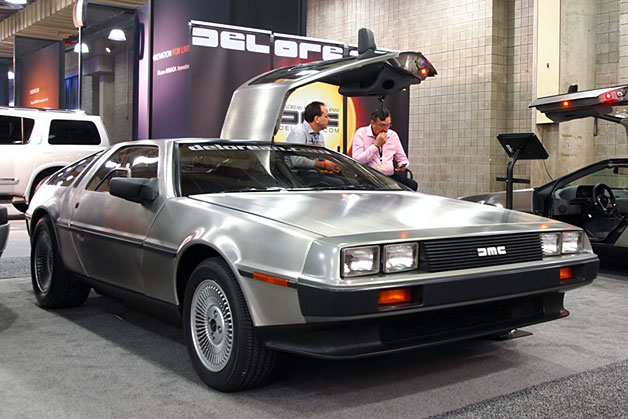 "Roads?  Where we are going, we don't need roads…or at least not many, because we are only about 100 miles before a recharge."  Or so the famous line would go if the iconic 1980s film was made today and based off of the real present day Delorean DMCev.  The production ready Delorean DMCev debuted to much acclaim and Back 2 The Future references this week in New York.
The 2013 Delorean DMCev is powered by a 32-kWh lithium iron phosphate battery pack and has a 125 mile per hour top speed with a range of 100 miles.  Published specs claim a 0-60 time of 4.9 seconds, but company heads have stated that the target stands under six seconds.  The asking price for all of this nostalgia, innovation, and performance?  $95,000.  Maybe not as much as Doc Brown Paid back in the mid 1980s, but still a fair price considering the product.
One other interesting point about the Delorean is that it essentially doubles down on the sustainability meter, being both an electric vehicle as well as a recycled vehicle.  Electric drive technology lasts for many years with the original products, and then when the originals fail they can be re-powered with new batteries over and over again making them the ideal choice in eco friendly recycled products.
Delorean is obviously a boutique manufacturer, not having the need of a dealership in every major city.  Phoenix Valley automotive and tech enthusiasts can keep tuned to Vroom for more updates on the 2013 Delorean, and should contact Delorean directly to inquire about purchasing a Delorean DMCev.