I hate to over use the term "recessionista" after only a year of economic changes we seem to have blogged that word to death, so if you hear of anything better please send it my way. On the subject though I am asked repeatedly "How can I instantly update my wardrobe without spending a ton of money?" Well, love the possibilities are endless.
In the legwear department get yourself some black leggings be they leather, lycra, or velvet (please skip the lace because seriously there is no way to make these look upscale… more oft than not they end up looking rather "If we took a holiday".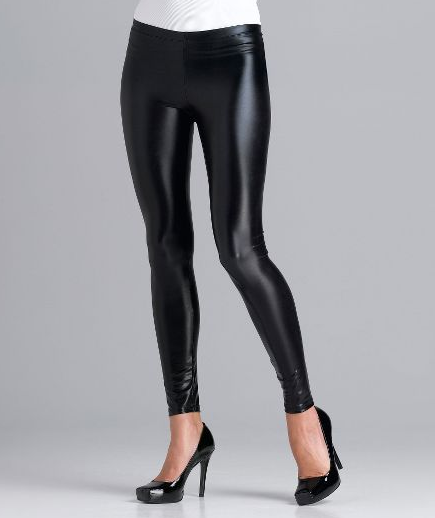 Gianni Bini Kate leggings from Dillard's
Add to that a boyfriend jacket, slinky and long is the best, but not too long if you are tipping the tape at under 5'4" unless you want your legs to look miniscule. Pair this with a really soft cotton t-shirt, turtleneck or ruffled blouse and pencil pants, a high waisted skirt or cuffed shorts. This will be a great go-to piece for the season.
A chunky embellished cuff will add a little flare to any outfit. I love the pieces by Chanel and YSL this season but check out trendy spots like For Love 21 for the best bargains.

Jewels from Forever 21
The not- to- be- missed item this season is an over the knee or biker boot. OTK boots will work with a bevy of looks from super short mini-dresses and last year's tunics to the slimmest of jeans or cuffed shorts and tights. If your prefer a shorter boot try a motorcycle style with loads of buckles… the Jimmy Choo's are delicious but will work a number on your wallet… so take a trek to stores like Aldo or Steve Madden and you will save enough to stock up on other fall tid-bits too.

OTK Boots from Nordstrom

Ankle Boots by Aldo
Also drag out the skinny belts of season past and cinch in those sweaters and coats, which will give them a new dimension and keep everyone drenching you in flattery.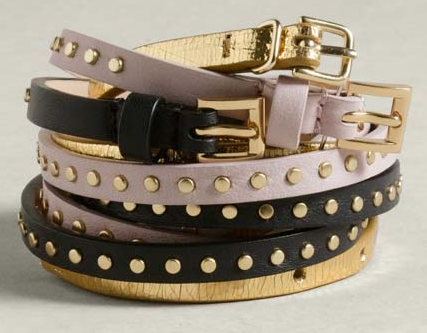 Skinny Belts from J.Crew
Lastly don't dismiss how much a little makeup switcheroo will make any outfit look fresh and updated. Slicked back hair whether a tight pony or a messy bun always look super chic. Bumble and Bumble Sumotech is a favorite pomade for adding shine and keeping hair in check. A little polish change can do wonders, try a deep gray like YSL's, or a jade shade like the one used backstage at Chanel's runway shows.

Backstage at Carolina Herrera

Bumble and Bumble Sumotech

Jade Nails