After a particularly hectic August and a gushingly full appointment book already for September I just couldn't wait to catch up on a little fashion reading over the holiday weekend. Forget the pool parties, barbeques and football games nothing is better than curling up on the sofa with a stack of fashion books and a little bit of Netflix. Call me an old school girl but some days the lightning speed of a google search just doesn't hold a candle to the tactile delight of a hardcover tome. I simply heart Amazon and can never seem to escape with less than half a dozen books at a time.
In fact, I have already pre-ordered the upcoming Amanda Brooks selection I Love Your Style: How to Define and Refine Your Personal Style – Ms Brooks (not to be confused with the former escort and self help author of the same name) is a former style writer for NY Times Magazine, muse and Creative Director for Tuleh. She brings her quirky, cool style and British sensibility to this fun and creative title and I for one can't wait!
So with the season churning full speed ahead I thought you, dear blog readers might appreciate a bit of unsolicited wardrobe building advice, so I am dedicating this week to how-to's with pearls of wisdom on how to shop smartly, define your style and the must have's that every closet should posses Let's face it we can't all have Rachel Zoe's closet but we can build a good collection. So as Julie Andrews aka Maria in the Sound of Music sings – Let's start at the very beginning, it's a very good place to start….. I hate to beat a dead horse darling but under the current economic conditions shopping smart is well, just plain smart so approach your wardrobe the same way you would a work related project- with a plan.
Step 1: Purge thy closet – Take stock of what you already have – Try on all of those items that aren't part of your regular weekly (or monthly if you are closet-ly endowed) rotation. If you don't absolutely love it and wear it, then toss it or donate it…. Easier said than done but be vigilant the goal is to stock your closet with only the absolute most jaw dropping, figure flattering numbers you can. If something needs repair put it in a separate bag and make a goal to take it to the tailor within one week… if you haven't at the end of the week, then toss those items as well to make room for all your new fall stash.
Step 2 Make a list of what's missing – Is there anything that you always wish you had to go with that blouse, skirt, shoe, dress? Manolo's, Gucci, maybe a little Fendi… Dedicate a little notebook to just this task and write down everything that you need to fill in or replace the missing links.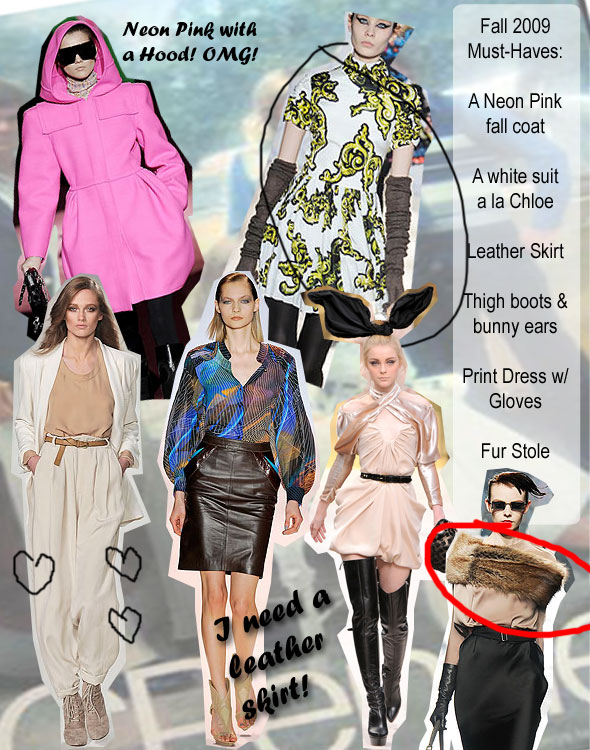 Step 3 Determine your budget – Credit card debt in this day and age is not so chic luv so tally up what your needs are and buy in cash week by week or month by month. This way you set your priority list and don't go broke making impulse buys.
From this point darling, you will be tempted to rush out to the mall and blow your style budget but savvy fashionista's realize that the next and most important step is to know thyself so stay tuned for tomorrows posts on ways to develop your signature looks.