When it comes to the scorching sun and rising temps that make up a classic Arizona summer, you don't have to forsake fashion or trying out new trends just because you can fry an egg on the sidewalk. Thankfully, style guru and Shopping Gal Alexa Rizk from Outlets at Anthem is here to share her knowledge of how to stay stylish while keeping cool.
In her weekly segment for Sonoran Living, Alexa demonstrates how a stylish skirt is the key piece to incorporate into your closet to keep chic and cool all summer long. As she points out, a skirt is a versatile and transitional wardrobe staple that comes in all different shapes, sizes and styles to lend you leeway in creating a plethora of looks that can take you from the office to a night on the town.
Best of all, every look seen on the segment is available at Outlets at Anthem for amazing can't-beat prices that will keep you and your wallet cool, too.
Check out the video here.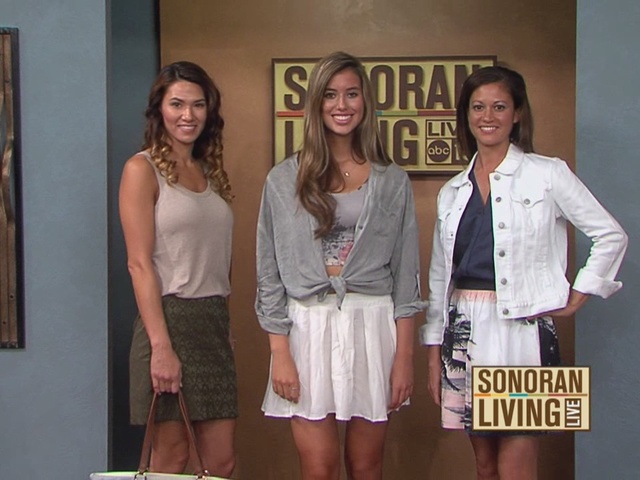 Michelle (left) is wearing a chic summer work outfit from Banana Republic Factory Store. She has on a stylish jacquard printed pencil skirt ($34.99) and a light weight silk sweater tank ($16). She paired her summer attire with a fun photo printed tote bag ($79.99) and pop of color with orange wedges ($51.99).
A younger, laid back look on Amelia (center) is also a great summer look. All of her fashions are from Pac Sun. She has on a beautiful Brandi Melville cream swing skirt ($26.95) with a popular floral crop top ($14.95). She paired the outfit with a grey washed button up, for a layered look ($19.99) and fun wedge sneakers ($19.99).
Megan (right) is also wearing a chic summer outfit from Banana Republic Factory Store. Her attire is great for work or a party. She has on a pleated printed skirt ($41.99), navy silk tank ($49.99) and white denim jacket ($59.99). To tie her outfit together she has on Isabel wedge sandals ($45.49).
Outlets at Anthem is a three-time Best of Our Valley winner for Best Outlets or Discount Shopping Center in the Valley. Tune in to Sonoran Living every week for a fresh fashion update courtesy of Outlets at Anthem.
Outlets at Anthem
4250 W. Anthem Way
Phoenix, AZ 85086
623-465-9500
www.outletsanthem.com