The Spring publications are landing on my doorstep (or mailbox as the case may be) and all I can think about when flipping through them is how much I want to head out and shop. In the midst of all sorts of natural disasters and real world issues these silly little fashion mags are a lovely escape. And after I have made my donations for earthquake relief and paying the bill, the next thing on my list are a few new accessories.
Always being a sandal fan, I just love the gladiator and cage flats that I am seeing all over the place. Even though we seem to live in the land of heels, the reality of it is that not all of us can do our jobs walking on stilts… so a stylish flat is in order. Jimmy Choo did the most wonderful suede and snakeskin flats with beads. These pretty little numbers pair well with any neutral, bright red or orange frock.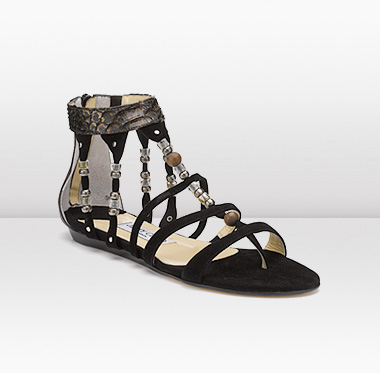 Of course what would Spring be without juicy bright hues? I personally am craving a bag or shoe in yellow, but there are loads of greens, pinks, oranges and purples to suit any closet. These Kelly green patent flats by Cole Haan are so delish that I might have to snag them as well. Or how cute are these Loeffler Randal flats in orchid? I can see them pairing perfectly with a pretty print dress or a slim jean.
Interestingly, for months now the topic of purchasing a watch has come up more than a half a dozen times. When I stop wearing a watch I never feel like I need one… but when I wear one I feel like I can't live without it… Several companies are doing crayola shades like DKNY, Michelle and this one by Juicy Couture that are so cheerful I am sure that it would be hard to have a bad day wearing one.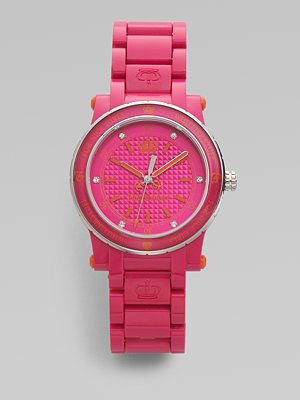 Lastly, it's been a while since I have replenished my hat collection and this season, if it's not the turban (and if you are over 40 it should not be the turban) then it should be the fedora that you add for a hint of fun. Lola Hats, Eugenia Kim and Kate Spade do darling ones with grosgrain ribbon trim in a variety of colors. Not only do they spice up any outfit but they give you a vibe all your own… and do we even need to discuss what a perfect solution they are for a bad hair day?