Sadly fashion month is over, or maybe not so sadly with regards to our last fashion news roundup (drama, drama, drama). But what are you to do when all is said and done and you are trying to come down from that fashion high without fully crashing? Well, you take a look back at the past four weeks and start spotting trends so that you'll be the first to wear them in spring.
Today, we are going take a look at some beauty trends or at least a little bit of a how-to for some unconventional looks seen on the runway that you can try at home. Fashionista.com collected all the info we need!
Gucci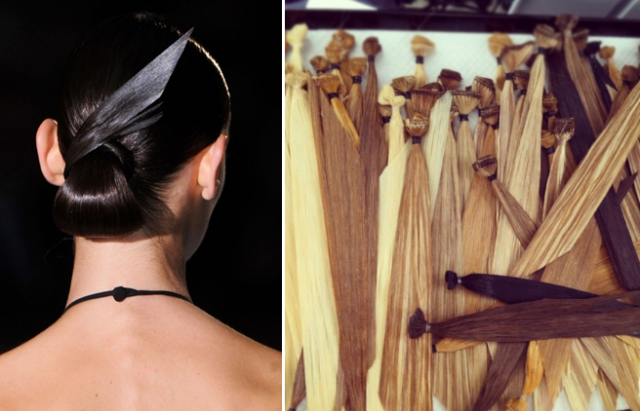 Murenu used real-hair extensions that were cut at a slant, then flattened them using a flatiron and gel, according to Allure. Low nape buns were wrapped with the extensions as a "tie," with the slanted, flattened ends loosely pointed up or down, as an architectural, origami-like detail.
Fendi

Using the actual fabric from the collection, Philips cut tiny pieces of orange, black, and blue neoprene from a rolled up bathing suit, according to Vogue. He used eyelash adhesive to painstakingly apply them across the lower lashline.

Donna Karan

Tilbury created a non-contagious pink eye by rimming the eyes in a Magenta lipliner and then individually coloring the lashes using Chromaline in Process Magenta.
Vera Wang

For an elegant take on weathered hair, Paul Hanlon created a "fabric-like" hair texture to build the turban updo. Hanlon began by prepping the hair with Fekkai Strong Hold Volume Mousse, powder drying, and back-combing from roots to end. The Fekkai team then straightened the hair and sprayed it with Fekkai Sheer Hold Hairspray. Splitting the hair into two sections, Hanlon crossed two sections of hair over each other at the front of the head. He then wrapped sections of hair around the head, pinning underneath.
Blumarine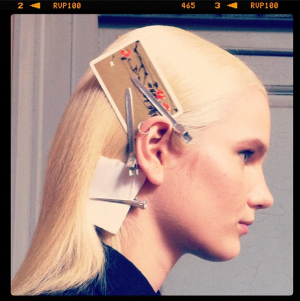 Pecis used playing cards to keep hair flat until the girls were ready to walk.
Chanel

Confirming our belief that oil is the new texture of the moment Philips mixed in hair oil with foundation, for a glossy, body defining glow. (Thanks to Eva Chen for tweeting this tidbit.)
Theyskens Theory

For a romantic grunge look, Kaliardos used the pinky Poised blush as an eyeshadow and Summer Sweetheart lipglass (from the future MAC Archie collection) along the lower lashline. To create "Theyskens Twins," a look inspired by the designer himself, Gilbert used an alchemic mixture of Nectar Thermique conditioner and water on short, shoulder-length wigs to create a textured, flat-ended bob.
Photos/Source: Fashionista.com