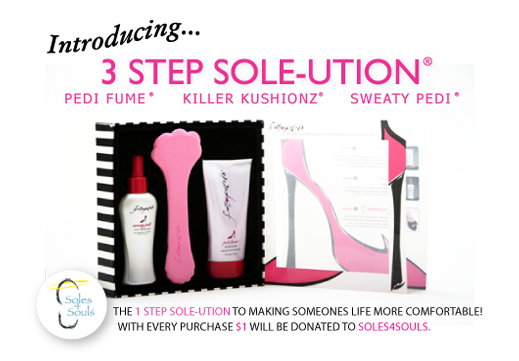 I am in dire need of a pedicure. I mean, it's pretty bad. And especially when you live here and you're running around in sandals all the time, it's definitely one of those things that needs to be maintained!
Even though I'm the absolute worst at do-it-yourself pedi's, I do like to stock up on good products to help keep my soles and toes pretty in between salon visits. So when I saw the new Foot Petals 3 Step Sole-utionz kit I thought, now there's something every gal should have in her beauty repetoire.
Foot Petals may be widely known for their shoe inserts and cushions, but the 3 Step Sole-utionz kit has expanded upon their genius attention to feet to include beauty goodies too. The kit protects your tootises by keeping them hydrated and soothed, something especially good for us dealing with such warm, dry weather. It's definitely great to have on-hand for in-between pedicure maintanance and you can pick up the kit for $45.
The Foot Petals 3 Step Sole-utionz kit includes:
Foot Petals Pedi Fume
This aromatherapy solution scented with lavendar and vanilla soothes and cools your feet. The Pedi Fume is especially great for hydrating your soles, healing cracked skin and prevents razor burn too. (O.K. the razor burn thing is per their website, to be honest I have no clue how anyone could get razor burn on their feet but….to each their own.)
Foot Petals Sweaty Pedi
Everyone's feet gets sweaty. Yeah it's gross and nobody likes to talk about it but, well, it happens to the best of us. To help stave off sweaty stinky feet, Foot Petals created Sweaty Pedi that keeps your feet nice and refreshed. It also absorbs sweat and helps protect your skin from blisters too.
Foot Petals Killer Kushionz
The last product in the Foot Petals 3 Step Sole-utionz kit is what the brand is best known for, cushions for your shoes. This one comes with a pair of cushions good for both open-toe or closed-toe shoes.
With every purchase of a Foot Petals 3 Step Sole-utionz kit, $1 will be donated to Soles4Souls. Soles4Souls is a charity organization that donates shoes to those in need. They've coordinated relief efforts for disasters like the Asian Tsunami and Hurricanes Katrina and Rita and have netted over one million pairs donated for these disasters. Sounds like a win-win to us!
You can purchase your Foot Petals 3 Step Sole-utionz kit at www.footpetals.com.