Normally, when it comes to Christmas shopping and decorating by this time of the month I have almost everything taken care of. Yet somehow this year I seem to have so little taken care of… which is leaving me feeling a bit disheveled especially when it comes to the guys in my life. Thankfully I just spotted this wonderful guide from Who What Wear that includes a little bit of something for every gent on your list.
We compiled this list with a particularly dapper gentleman in mind, the kind who sneaks a manicure, buys products because he digs the label, but still expects what's inside to work. Whether you already know one—or are hoping to encourage a less put-together dude to get it together—the following gifts are sure to please.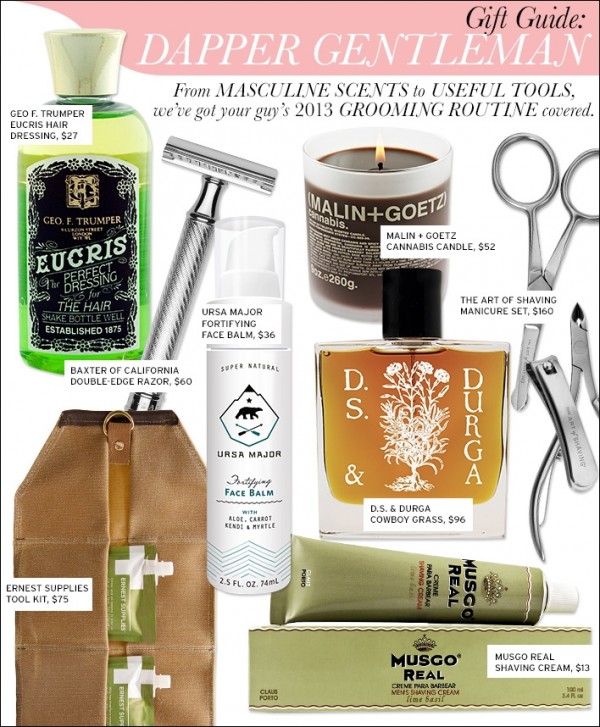 Geo F. Trumper Eucris Hair Dressing ($27)
This century-old formula will add shine and hold to any man's hair, but the mineral oils make it best for brunettes. Bonus? It's just slightly scented with violets.
The Art of Shaving Seven Piece Manicure Set ($160)
You can't expect every guy to make time for a manicure, but gift him this set and he can take care of his nails himself. It's like a shinier, fancier tool kit.
Malin and Goetz Cannabis Candle ($52)
There's nothing sweet about this candle. The earthy scent, burgundy wax, and frosted glass will fit right into any bachelor pad.
Baxter of California Double Edge Safety Razor ($60)
Just because it's practical doesn't mean it can't look great on the bathroom sink.
Musgo Real Shaving Cream ($13) in Lime Basil
Because he'll need something to use with that razor—and this olive green tube looks like something Ernest Hemingway might keep on hand.
D.S. & Durga Cowboy Grass ($96)
This small Brooklyn perfumery's gained a cult following in just a few short years. Cowboy Grass smells like it sounds—a masculine, smoky scent filled with wild grass, thyme, and pure Haitian vetiver.
Ursa Major Fortifying Face Balm ($36)
This 100% natural moisturizer gives your guy the hydrating, anti-aging benefits of your own skincare routine in one fell swoop. It also packs antiseptic ingredients and calming properties to fight razor burn.
Ernest Supplies Tool Kit ($75)
This waxed cotton tool belt might be the manliest dopp kit ever made. Instead of hammers and nails, it's packed with the brand's hit products, including Matte Moisturizer, Cooling Shave Creme, and Soap-Free Gel Face Wash. (No matter how much he loves it, don't let him wear it.)