Plans this weekend? Drop 'em and head to the beautiful downtown park at Scottsdale Civic Center for the 41st annual Scottsdale Arts Festival, presented by Scottsdale Center for the Performing Arts, 99.9 KEZ and Mix 96.9, SRP Earthwise Energy and Cuties Clementine!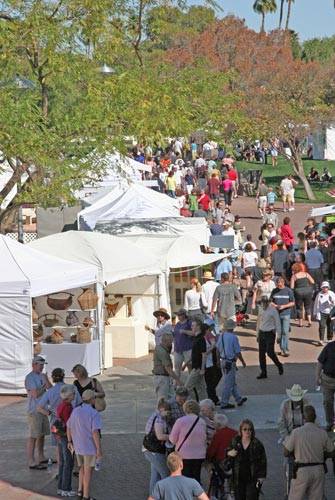 Recently named one of the country's favorite arts festivals by the readers of AmericanStyle Magazine and "Best Arts Festival" by Phoenix New Times, the award-winning Scottsdale Arts Festival showcases the creativity of 200 jury-selected artists from throughout the United States who work in painting, sculpture, glass and ceramics, jewelry, photography and more. Like what you see? Works of art are available for purchase directly from the artists and through the Festival's online art auction.
Indulge on delicious local cuisine from the hip food trucks of the Phoenix Street Food Coalition; wine tastings; live music and entertainment from Arizona's top bands and performers; creative activities for children and families at Imagine Nation; a performance by CircusYoga and an interactive camera obscura commissioned by Scottsdale Public Art; free admission to Scottsdale Museum of Contemporary Art (SMoCA); demonstrations by artists from the Scottsdale Artists' School; and free parking and trolley service.
The Artists
Long recognized for its high-quality fine arts and crafts, the Scottsdale Arts Festival showcases 200 of America's premier artists. Selected by a jury of arts professionals, the artists are based throughout the United States and work in all media, from ceramic, glass, jewelry, metals and textiles to painting, sculpture, photography, printmaking and drawing. Meet and talk to each artist and buy works of art directly from them. A complete roster of participating artists is available online at www.ScottsdaleArtsFestival.org.
Gourmet on the Streets
Bring your appetite! New to the Scottsdale Arts Festival this year, gourmet food trucks from the Phoenix Street Food Coalition will offer delicious locally sourced cuisine. These mobile eateries have earned rave reviews throughout the Valley for their innovative specialty street foods. Among the vendors will be Beet Street, Hey Joe! Filipino Street Food, Jamburritos Cajun Grille Express, Paradise Melts, Riteway Catering Company, Short Leash Hot Dogs, Sunshine and Spice, Sweet Republic, Tom's BBQ and Whiskey Ranch Wood-Fired Pizzas.
Wine Tastings and Spirits
Sponsored by Republic National Distributing Company, the Scottsdale Arts Festival Wine Garden features fine wines from Francis Ford Coppola Winery, Kobrand Wines & Spirits and Trinchero Family Estates. A variety of other beverages are available for sale, including Skinny Girl Margaritas, Pinnacle Vodka, Sweet Tea Vodka, Deschutes and Full Sail craft beers.
Live Music & Entertainment
Get ready to dance because many of Arizona's top musicians and entertainers perform during the Scottsdale Arts Festival. This year's featured performers include Caribbean Cruisers, The DelRayz, Marmalade Skies, Mark Zubia & Los Guys, The Samba Project, Sara McAllister Band, Sugar Thieves, Walt Richardson and many more. Concerts take place continuously at the Scottsdale Civic Center Amphitheater and Fountain Stage. A complete entertainment schedule is available online at www.ScottsdaleArtsFestival.org.
Admission
Admission to the Scottsdale Arts Festival is $7 for adults, $5 for students and free for children 12 and under and members of Scottsdale Center for the Performing Arts and SMoCA. A two-day pass is available for $10. Tickets may be purchased at any Festival entrance, and advance tickets are available online at www.ScottsdaleArtsFestival.org or through 480.994-ARTS (2787), ext. 2. Pets are not allowed, except for trained assistance dogs.