If you're amidst a kitchen remodel or just ready for something fresh, an easy fix is to switch up the hardware on your cabinets or drawers. It's really amazing what a grand effect such a small change can make to the atmosphere and design of the most used room in the house.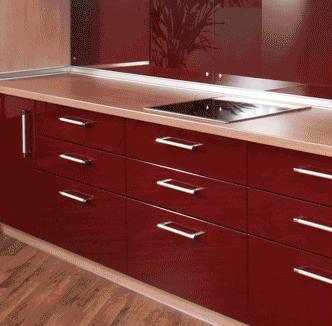 DesignerHardware.com recently announced its two newest lines of door hardware from Omnia and Inox Industries. These door hardware are made from the finest materials available and are both elegant and functional. Omnia and Inox manufacture's the best selection of door and cabinet hardware and accessories; built to match any interior or exterior door. Both manufacturers have supplied the industry with architectural hardware that is stylishly designed yet exceptionally functional; with a wide range of rich finishes and added security.
DesignerHardware.com offers the luxury of an extensive selection of upscale innovative designs at competitive prices. Indulge in traditional beauty and stylishness with their wide range of styles from traditional, classical, contemporary, to modern; for the ultimate in design and function, DesignerHardware.com offers the finest interior and exterior door hardware with matching accessories to satisfy any hardware needs. With radiant finishes and luxurious design, these are beautifully crafted pieces.
Both manufacturers have a very diverse collection of cabinet hardware, and door hardware. Each hardware is carefully crafted with the understanding that a beautiful design must be as comfortable to the hand as it is pleasing to the eye. DIYers can choose from a selection of classical, traditional designs, ornate, romantic pieces or contemporary styles.
The right style, look, collection, finish and security are very important factors when purchasing door hardware. It is on this premise that DesignerHardware.com place great emphasis on bringing the best in quality and security in every lockset. Leave an everlasting impression on everyone who visit your home with your elegant door hardware.
DesignerHardware.com offers a vast collection of exceptional solid brass products to elegantly enhance all areas of your home. Each collection features a wide variety of beautiful, high-fashion finishes. From door hardware to bathroom tubs, fixture, faucets, kitchen faucets, sinks and accessories and more; DesignerHardware.com provides the discriminating decorator with numerous options to accent and compliment your home's ambience with distinction, taste and detail.
Designer Hardware's staff has over twenty-five years experience in the door hardware and plumbing faucet and fixture industry. The Designer Hardware Team has worked hard and is proud to bring to the market an exceptional website which makes online shopping easy by providing all the product information required and making the selection process simple.
To learn more, visit www.designerhardware.com.