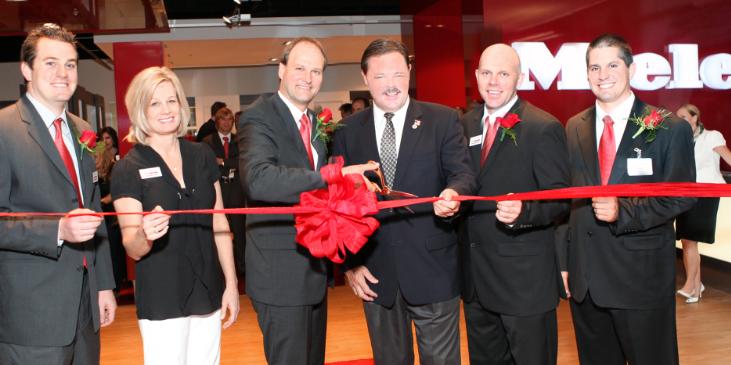 Miele, the world's largest family owned appliance manufacturer, cut the ribbon on its new Gallery in Scottsdale, Arizona – September 17, 2009 – in the Airpark Design Center at 7550 E. Greenway Road. Dr. Markus Miele, family owner and Managing Director of the global appliance giant performed the official opening ceremony with Scottsdale Mayor W.J. "Jim" Lane. The opening event played host to over 250 area designers, builders, dealers and press who sampled gourmet delicacies prepared in the showroom's live test kitchens while touring the stunning product displays.
According to Dr. Markus Miele, 4th generation family representative and co-proprietor of Miele & Cie, "Scottsdale now joins a spectacular line-up of Miele Galleries around the world. As Sky Harbor Airport in Phoenix is a central hub with direct flights from many major cities, this gallery is predestined to become a main training facility for our dealers in Colorado, Utah, New Mexico, Nevada and beyond. At the same time, the Gallery is set to become a popular resource center in which designers, builders and homeowners can experience, first hand the world of innovation Miele has to offer. All our showrooms and galleries around the globe have one thing in common: Visitors come face to face with a deeply rooted tradition on the one hand and state-of-the-art technology on the other. The company founded by my great-grandfather Carl Miele and his partner Reinhard Zinkann in 1899 has remained true to its philosophy of 'Immer Besser' [a German phrase meaning 'Forever Better'] for more than a century now. 'Immer Besser' is both an ambitious target and a challenge which must be mastered afresh each day."
Scottsdale Mayor W.J. "Jim" Lane was quoted as saying, "The City of Scottsdale welcomes this elegant Miele Gallery. This is a great partnering of great brands. Miele and the Scottsdale community share the values of quality design and environmental awareness. Both offer beautiful visual character at the same time we continuously reduce resource consumption and enhance sustainability."
About Miele's Scottsdale Gallery
The new 5,000 square foot Scottsdale Gallery will display an extensive selection of Miele appliance products in a unique minimalist environment – free from distractions of the typical kitchen vignette styling. This unique visual strategy allows customers to obtain a clear, uncluttered view of the appliances, making it easier to imagine them incorporated in their specific kitchen design. Scottsdale is Miele's tenth U.S. appliance Gallery, joining Beverly Hills, Boca Raton, Boston, Chicago, Dallas, Princeton, New York, San Francisco and Seattle.
Consumers and designers who visit the Scottsdale Gallery will experience Miele's innovative, live product displays and may further their know-how through cooking programs and educational seminars. Miele's Gallery offers a fully functional kitchen area for classes, an elegant dining area for events and a coffee bar for customers to enjoy a perfect espresso or coffee while they visit. Classes and events for the design community and general public will be listed online at miele.com.
The Gallery is part of Miele's total brand experience – communicating the quality, design and technology their products are known for around the world. From Prague to Hong Kong – Gütersloh, Germany (the location of Miele's global headquarters) to New York… the Scottsdale Gallery joins a growing list of successful Miele Gallery properties.