If you appreciate antiques with extensive back stories, then there is nothing more relaxing than kicking back at the end of the day to watch a little Antiques Roadshow. I love being completely phased by the appraisal values of certain pieces. But most of all, I watch the show for the reactions of the antique owners. From the flabbergasted and newly wealthy to the uncomfortable nodding from owners whose pieces have less than impressed, I love every minute of the emotional rollercoaster that is the Roadshow.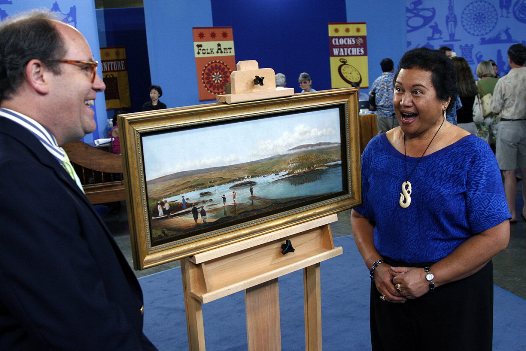 On Monday, January 4, 2010 at 8/7C PM, Antiques Roadshow's season premiere features a record-setting appraisal of four Chinese carved jade objects–estimated to be worth as much as $1,070,000–the
highest value appraisal ever featured in the series' fourteen years on PBS. The collection was discovered at ROADSHOW Raleigh, North Carolina, event last June.
But the question remains: How has the recession affected the antiques market? "As values forantiques rise and fall like other markets, ANTIQUES ROADSHOW answers that question, one treasure at
a time," said series host Mark L. Walberg.
2010 Broadcast Schedule
ROADSHOW presents twenty brand new episodes in 2010, including two ANTIQUES ROADSHOW Special
Editions.
EPISODES AND 2010 PBS AIRDATES
Raleigh, North Carolina
January 4, 11, 18
Atlantic City, New Jersey
January 25, February 1, 8
Madison, Wisconsin
February 15, 22, March 1
Denver, Colorado
March 29, April 5, 12
Phoenix, Arizona
April 19, 26, May 3
San Jose, California
May 10, 17, 24
Special Edition: "Simply the Best"
Fall 2010(ROADSHOW's appraisal all-stars)
Special Edition: Naughty and Nice
Winter 2010
This year, ROADSHOW also adds a third book to its roster. Full of personal anecdotes, interviewswith cast members and guests, and photos, "Antiques Roadshow Behind the Scenes" (December 2009, $16.99, Touchstone), is written by the series' ultimate insider, executive producer Marsha Bemko.
To learn more, visit http://www.pbs.org/wgbh/roadshow.