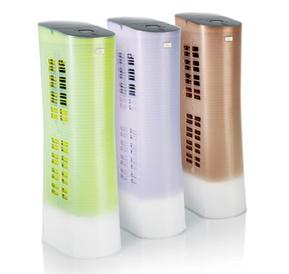 The first and only eco-friendly home HEPA UV air purifier ever available in the United States. The "Paralda" from Alen Corp. recently debuted and the company has also announced three new color choices (Bamboo, Twilight, Espresso) that will be available starting September 1, 2009.
Only the new Paralda meets strict eco standards (RoHS compliant and Energy Star rated) with an indoor air cleaning efficiency of 99.97% – including sterilizing viruses that cause the flu. The Paralda is available now nationwide at Target and from Alen Corp.
Alen Corp. has unveiled their new fall collection colors for the first and only portable eco-friendly HEPA UV air purifier for home that meets strict green standards called Paralda. The new colors of the first "green" air purifier will include Espresso, Twilight and Bamboo Green. Paralda has 100% lead-free components, RoHS compliance, ozone safe, and Energy Star qualification – using less energy than a traditional light bulb – http://store.alencorp.com/Paralda-Air-Purifier-p/paralda.htm. Paralda also has a powerful UV lamp that lasts 3 to 5 years to sterilize airborne germs that cause the flu.
"The new Paralda creates an entirely new category of air purifiers in the U.S.," said Peter Mann, CEO of Alen Corp. "With 99.97% HEPA air filter cleaning efficiency and energy efficient at all four-speeds – Paralda also couples stylish design with a UV lamp to kill germs in the air – that is set to last 3 to 5 years, ionizer, and the industry's best lifetime warranty. For consumers looking for a safe, environmentally efficient air purifier for home – the new Paralda is the logical choice for a green, portable air purification appliance. We conducted extensive focus groups and found Espresso, Twilight and Bamboo Green were the consumer color choices for fall 2009," concluded Mann.
Technical specifications for the new Paralda are as follows:
– Power Consumption: 55W (max)
– Fan Speeds: 4
– Energy Consumption by fan speed: 1: 19W, 2: 29W, 3: 41W, 4: 55W
– Power Supply: 115V / 60Hz
– Controls: Electronic with light touch activation
– Room Size: Best performance up to 400 sq. ft. in office space
– Clock: Yes, 24 hour programmable
– Noise Level: 39 dBA on low, 60 dBA on high
– Dimensions: 7″W x 11″D x 28″H
– Unit Weight: 15 lbs
– Warranty: Lifetime
– HEPA filter efficiency: 99.97%
– HEPA filter life: 6-9 months continuous use
– UV lamp life: 3-5 years – kills bacteria and viruses that cause the flu
Paralda is available nationwide at Target (www.target.com) and also from Alen Corp. (www.alencorp.com). The retail price is $499.00.