What kid doesn't want to turn sparkling white walls into a colorful canvas? I'll admit to having this desire on occasion even to this day. A new decorating product is aimed at bringing out the inner child in all of us.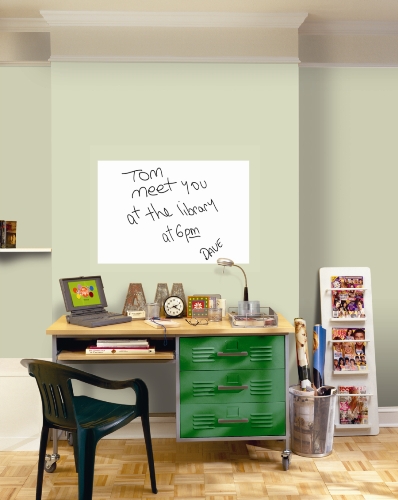 WallPops are the premier line of peel and stick wall art from Brewster Home Fashions and the company is releasing an all-new line of products perfect for students to use when personalizing their new dorm or apartment.  The repositionable and removable element of WallPops makes it an non-permanent decorative accessory, as students can simply create a splash of design and remove when necessary – all at an affordable price of approximately $10 to $29.99.The WallPops line will include six new Dry Erase designs featuring trendy patterns and bright colors.  With this fresh WallPops offering, plain white functional boards can have a decorative element. WallPops is also releasing two all-in-one kits, providing a convenient and affordable way to transform a room into a chic setting.
"We are extremely excited about our new introductions and the growing design possibilities for consumers, reaching everyone from college students to teens, tweens and young adults," said Paula Berberian, Creative Services Manager for Brewster Home Fashions.  "We continuously strive to remain up-to-date on the latest trends and work to deliver the best possible product line based on this analysis."
With the new Dry Erase from WallPops, students can choose from a variety of colors and designs that coordinate with the rest of the WallPops line.  Retailing for approximately $12, the dry-erase sheets are 13" by 18" and each come with a WallPops WallPops is available at select retailers nationwide for approximately $12.00 per WallPops Dry Erase Sheet and $29.99 per kit.  Other WallPops collections are available for approximately $24.99 per ZooWallogy animal, $11 for a pack of five Dots, $11 for a pack of five Blox and $11 for a 6 ½" x 16' continuous roll of Stripes. 
WallPops is manufactured by Brewster Home Fashions based in Randolph, Mass.  Established in 1954, Brewster is a family-owned and -operated fourth generation company.  Brewster distributes throughout the U.S. and has distribution facilities in Canada, the United Kingdom and China.  A category leader, it offers seven additional brands and more than 10,000 wallpaper and border choices.
To learn more, visit www.wall-pops.com.