By now, we all know the effects that the suffering economy has had on our personal lives as well as our careers and local businesses. However, I think many of us were hoping that the light at the end of the tunnel had emerged, and the frequent bad news was starting to diminish and be replaced by the good. While this may be true, it's not without regret that local Phoenix décor and home goods shop, Haus Modern Living, has announced their closure.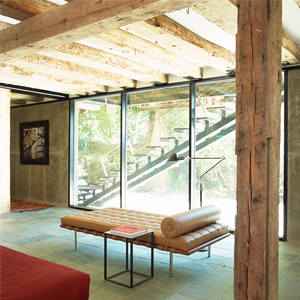 After eight years of business, Haus Modern Living owners Lew Gallo, Gregory Gordon and Brad Plumley decided to close their doors due to the rough economic climate. Haus Modern Living, located at 4700 N. Central Ave. in Phoenix, was one of the first local furnishings and décor boutiques to feature an array of all modern designs and items. Haus Modern Living offered clientele a variety of accessories, decorative items and furniture for the modern home, including bathroom items, clocks, ceramics and vases, pet items, kitchen accessories and tools, seating, tables, office accessories, lighting, storage, gifts and more.
Also contributing to the Haus closure was the expensive attempt at owning their second shop, Alessi, at Phoenix's CityCenter of CityNorth. Because of this, the shop owners had troubles refinancing with their bank. While a refinancing plan was in the works, attempts at turning a corner toward financial success failed. Alessi, which recently closed as well, featured high-end Italian kitchenware and gifts.
The three Haus owners had planned for a long while to open a second Haus location, next to Alessi at CityCenter of CityNorth, as much of the construction on that store had already been completed. However, this store is no longer in the works, which may prove to be a good thing since CityCenter of CityNorth is also facing problems.
The entire phase one of CityCenter of City North is facing foreclosure. The 144-acre shopping center (which had been set to open a Nordstrom and Bloomingdale's) is being foreclosed upon by Chicago-based Capmark Finance after opening during the height of the economic crisis in November of 2008. The developers of CityCenter of CityNorth were Klutznik Co. and Related Cos. and they now owe $290 million to Capmark Finance for the project, which is also facing bankruptcy. The foreclosure auction date is set for March 31.
However, all hope is not lost for Haus Modern Living fans. Owners Gallo, Gordon and Plumley have decided to open a second Alessi location, which will be placed next to Williams-Sonoma at Phoenix's Biltmore Fashion Park shopping center in February.
To learn more about Alessi, visit www.alessi.com.