World Market Center Las Vegas announced that luxury furniture manufacturer David Francis Furniture will now have a strong division in the western United States by expanding their brand to a year-round showroom at Las Vegas Design Center.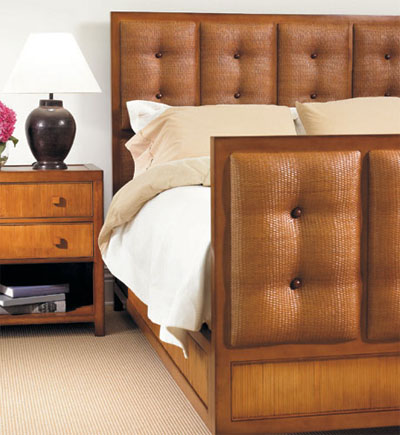 Characterized by its handcrafted, high-end designs, David Francis Furniture (www.DavidFrancisFurniture.com) is known for its eclectic furnishings in rattan, abaca, lampacanay, bamboo, mahogany, traditional hardwoods, arorog and more. Available through interior designers, trade-only showrooms and selected fine retailers, the Las Vegas location is the first company-owned showroom outside of its Florida headquarters. The 1,820 square-foot show room will be located in Building A-114, and will be open daily.  
"Because of our success at each Las Vegas Market we identified Las Vegas Design Center as a hub for international, hospitality and residential designers," says Chief Designer David Francis. "Because Las Vegas itself is such a destination, we felt we could build a strong daily presence as opposed to being open twice per year. With a full-time showroom, we can now be more accommodating to our current customers, while introducing our line to new prospects who visit the Design Center."   
Francis says that their participation at the Las Vegas Market has resulted in new, high-quality leads and an increase in sales, including many international buyers and residential interior designers. A permanent presence was an opportunity his company couldn't pass up. 
"Despite today's lackluster economy, it is important to move forward and continue to stake our claim as the premiere resource for high-end residential and hospitality designers," says Francis. "The economy will come around. We are a strong company and we will continue to look for new opportunities. We believe Las Vegas is a big stepping stone to our continued growth." 
In addition, Francis says that he shares a similar philosophy to the Las Vegas Design Center. "We consider ourselves to be an innovative, design-driven company. World Market Center has proven to be the same," says Francis. "Their public relations outreach, video, marketing materials, messaging and tenant support has been amazing. We feel this is an ideal partnership."
The Las Vegas Design Center's new Design Salon will give the public unique access to David Francis Furniture, as well as other showrooms. This service facilitates complimentary consultations for consumers with professional designers, and gives those consumers access to showrooms within Las Vegas Design Center. It's the product of a partnership between Las Vegas Design Center and The American Society of Interior Designers' (ASID) California Central/Nevada chapter. 
"This is the first time we will offer our full line to a retail audience, while also remaining loyal to our interior designer customers," says Francis. "We think Las Vegas Design Center's alignment with ASID is a wonderful program that will make great design more accessible." 
The Las Vegas Design Center at World Market Center Las Vegas is the epicenter of the world's fastest growing home furnishings complex, Las Vegas Design Center at World Market Center Las Vegas is a year-round resource for design-seeking consumers and designers showcasing top names in fine furniture, decorative accessories, wall décor, lighting, floor coverings, fabrics and trim.  Now open to the public Monday through Friday from 9 a.m. to 5 p.m., LVDC boasts hundreds of leading manufacturers' lines. An important source of education for the industry, Las Vegas Design Center also attracts many of the industry's most prominent thought leaders to its comprehensive slate of seminars, networking receptions and other sought-after events. For more information, visit www.lvdesigncenter.com.