Here is a great gift idea for the home as holidays are fast approaching.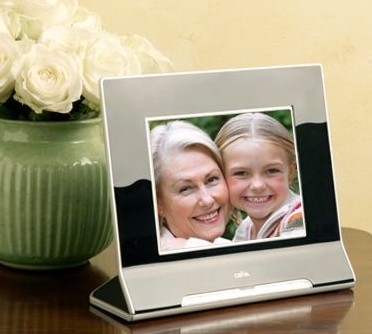 CEIVA Logic, the inventor and supplier of the leading connected digital photo frame, recently announced the launch of the all new CEIVA Pro 80 Digital Photo Frame. The latest in CEIVA's popular line of connected digital photo frames and just in time for the holidays, the CEIVA Pro 80 offers PicturePlan customers both telephone and Wi-Fi connectivity. Its built-in media server connection allows users to stream photos instantly from their computer to their CEIVA Pro 80 over a home network. Joining the popular CEIVAshare as a favorite among consumers, the CEIVA Pro 80 stands out with a sleek design suitable for any home or office, two interchangeable faceplates in rich wood and classic black finishes and a built-in memory card reader.
The CEIVA Pro 80 Digital Photo Frame retails for $179.99 and is specially priced for the holidays at $147.99, a $32 savings. CEIVA Pro 80 includes 1 Year of PicturePlan photo delivery service and the unlimited PicturePlan Lifetime Warranty. CEIVA frames are available at http://www.ceiva.com or by telephone toll-free at 877.692.3482. PicturePlan memberships start as low as $6.95 per month for a multi-year membership following the one year service plan included for free.
Through the patented PicturePlan photo delivery service, the revolutionary CEIVA frames automatically display photos sent from computers or camera phones. Members invite their friends and family to send photos from anywhere — for free. Perfect for everyone in the family, including grandma and grandpa, CEIVA frames display a full-color slideshow — without having to do a thing! Once photos are downloaded, CEIVA's signature blue light indicates that new photos have arrived. Full-time U.S.-based Customer Care is also available to assist customers.
Additional features exclusively from CEIVA include photo customization, gallery cards, free CEIVA Channels like ABC News and ESPN sports and free applications. With the CEIVA Snap iPhone application, simply snap a picture with your iPhone and send it directly to any CEIVA. Plus, the CEIVA Sender for Facebook application lets you send photos from Facebook to your CEIVA frames. CEIVA Sender for Picasa gives you the ability to send photos straight from Picasa desktop software.
CEIVA, the inventor of connected digital photo frames, provides lifestyle-enhancing products that enable families and friends to automatically share and display an endless slideshow of all their treasured digital photos. CEIVA Digital Photo Frames with PicturePlan allow members to send photos directly to the frame from anywhere in the world, store an unlimited number of photos online and enjoy the worry-free PicturePlan Lifetime Warranty. Patented technology exclusively from CEIVA is designed for every generation to use with ease so that daily photo sharing is always a rewarding experience. CEIVA products are available through the CEIVA Store at ceiva.com and at select retailers. CEIVA headquarters are located in Burbank, CA.
To learn more, visit http://www.ceiva.com