Although I am not the craftiest chic on the block, I've always thought it would be cool to design my own fabric. Never being quite sure how exactly one would go about doing just that, a new online service is making it easier than ever.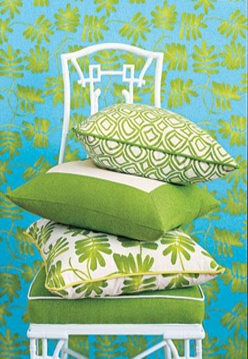 Now anyone can create custom fabric for innovative clothing, wall art, handbags & purses, bedding, table linens and even surfboards. KarmaKraft.com is a design-oriented digital fabric printing company that allows anyone to upload their own fabric design online to create digitally printed 58-inch custom cloths. In three simple and easy steps, anyone can take their own design inspirations and turn them into real fabric for any variety of uses:
1) Upload the design.
2) Select the desired material or product you want
3) Purchase as much or as little of the custom fabric as needed.
What makes KarmaKraft.com different and unique is that the company eliminates the costly set-up fees and minimums that are imposed by traditional printing methods. The service also eliminates the need to understand Photoshop or other advanced computer-aided design systems to get a design printed. Upcoming designers, homemakers, small business owners, and graphic artists now have the ability to print their own design with no color limitations, on a wide variety of fabric qualities such as cotton, linen, silk and more. KarmaKraft.com can help anyone from novice crafters to professional designers create their own signature designs. They even offer custom cut and sew services to make items like pillows, pet beds, scarves, tablecloths or personal apparel and more — all with custom-designed fabric. On the company's Web site, resources like a "Designer Gallery"showcase fabrics designed by professional designers.
KarmaKraft.com uses reactive dyes for their cotton, linen and silk qualities and disperse dyes for the polyester. Most digital printing companies just use textile pigment dyes for their product. Printing with reactive and disperse dyes makes the fabric more vivid in color, washable and softer in hand than other digital printing companies offering pigment dyed fabrics. Custom fabrics range from $20 – $32 per yard and there is no minimum order requirement. KarmaKraft.com's professional cutting and sewing services range from $10 – $18. To learn more, visit www.KarmaKraft.com.