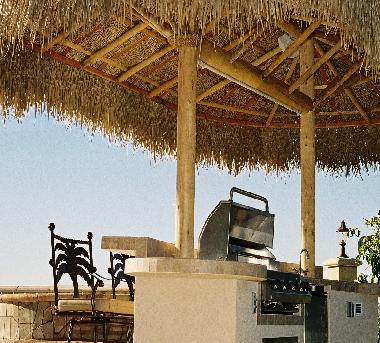 Just for fun, we thought we would look at some unique and kitschy to make your backyard more fun this summer. Tiki!! The Tiki subculture of the 21st century is a revival of the Polynesian craze of the 1950's and 1960's: lounge music and fashion, exotic drinks, swaying palm trees, exotic women and south pacific island dreams. When you say "drinks with the little umbrella," you are talking from the roots of Tiki.
Here are some fun things to add to your backyard decor, all of which you can get at Bamboo and Tikis Web site and location in San Diego.
Tiki Bar — Tiki bars come with a variety of amenities and accents that can include, thatch roofing, bamboo paneling, decorative wood carvings, umbrella-style roofing, a flat roof style, or even some with no roofs. Custom-made, pre-assembled, and portable bars are also available.
Tiki Planter with Clay Pot Insert — Each planter is constructed of eco-friendly coconut palm trees, kiln dried and then finished with a high quality marine varnish and is suitable for indoor or outdoor use.
Natural Rolled Bamboo Fencing — Connected with hidden heavy gauge galvanized wires, our fence panels are pre assembled and ready to be installed in your outdoor garden or home. Easily set up outdoor structural fences by connecting them together to form a screening barrier.
Thatch and Umbrella Kits — Thatch roofing is one of the oldest forms of roofing known. Thatch is renewable, fast growing and earth-friendly. BambooandTikis.com carries coco palm thatch roof panels from Mexico (also known as palapas), cape reed panels from Africa, and thatch panels from Fiji.
100% organic Moso Bamboo Rugs — Extremely durable and beautiful, these rugs can be used on all types of surfaces including hardwood, carpet, tile and cement floors.