How is it that the holidays are already upon us? It feels like just yesterday that I was burning my hands on my steering wheel in the 114 degree Arizona-summer heat. In the spirit of Thanksgiving, I've scoped out some of the best home décor and table décor items—courtesy of Williams-Sonoma and Williams-Sonoma Home—that will set the festive mood for next week's food-filled family gatherings.
It's no secret that Thanksgiving revolves around the turkey, but some turkey decorations can be a bit cliché. However, this Decorative Straw Turkey from Williams-Sonoma is traditional while still being interesting, which will please all generations in attendance. Handcrafted from dried grasses and wood chips and finished off with a fantail of straw, this gobble-gobbler is available in large or small sizes (the small can hold place cards at the dinner table), depending on your turkey-day décor needs. $24.50 for two small or one large.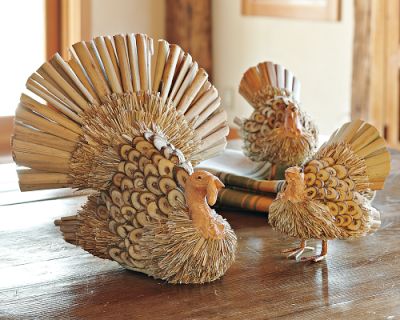 This Magnolia & Pomegranate Wreath and Garland is bright and cheery while still being holiday-appropriate. The best thing about this decorative wreath is that while it's quite festive, it it is not specific to Thanksgiving or Christmas, making it the perfect piece to buy now and keep hanging on your door through December. This Williams-Sonoma Home wreath is composed of wintry elements like fresh fir, magnolia and bay leaves, pepperberries, dried hydrangea, pomegranates and strobus pinecones. $98-$128.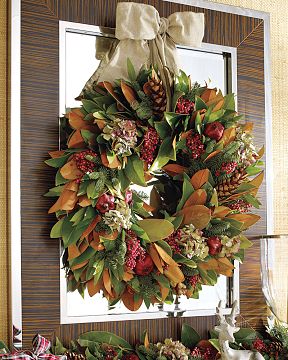 Pumpkins and gourds give Thanksgiving a much-needed harvest feel, which is why I love these Williams-Sonoma Pumpkin & Gourd Candles. Paraffin wax is hand-poured into detailed mold casts to make these candles look incredibly life-like. Set them on a coffee table, mantle or even the dinner table pre- or post-meal and light for a cozy ambiance. Set of four, two pumpkins and two gourds, $39.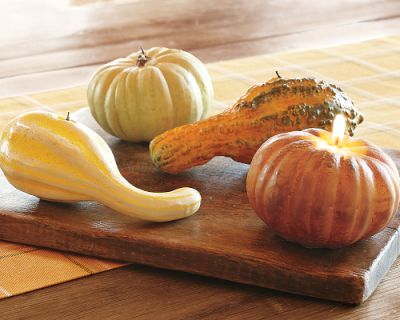 Our favorite day to chow down often leaves us a bit lethargic and tired (because of the tryptophan in the turkey, right?). Whether or not you're hosting overnight guests, you'll want to have a few comfy, cozy blankets for guests to wrap up in while finishing off their last few bites pumpkin pie. These tartan cashmere throws from Williams-Sonoma Home have a festive, cold-weather feel about them, providing an easy transition from Thanksgiving gatherings to snuggling up while opening presents come Christmas morning. Regular price, $368; special $268.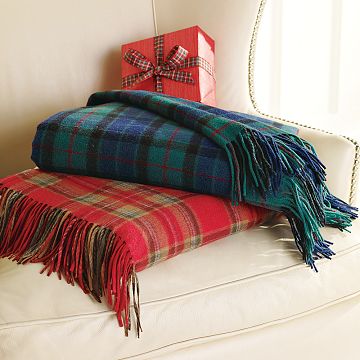 This bright and cheery Acorn Jacquard Tablecloth in Rust & Burgundy is the perfect way to add some color to your Thanksgiving Day spread and a great way to make sure that the table  looks as good as the food you've prepared for your guests. $120-$160.