Sometimes a successful business works best when kept within the family. Such is the case for the mother/daughter design team of Hiam Hadeed and Violet Hadeed-Baird, who recently introduced Blossom Pillows, their blossom-inspired decorative pillow line via their new ecommerce website, www.BlossomPillows.com.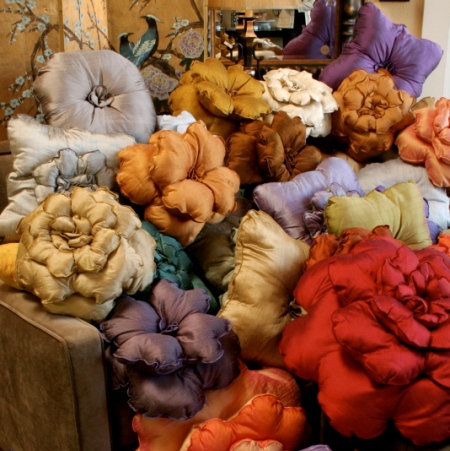 All Blossom Pillows are handmade in America using a lovely selection of home decor fabrics that range from glamorous doupioni silk and modern feeling passion suede to natural looking linen. Currently the line features 11 styles of decorative pillows in various shapes and sizes ranging from a 15″ 2-Tier Blossom to a 30″ 4-Tier Blossom with additional sizes and styles in between. All decorative pillows are made to order and the mother/daughter team welcomes special requests for custom orders. "We love to work with our customers in producing their own unique color combination, where the end result is a one-of-a-kind masterpiece," says Violet Hadeed-Baird. They are involved from start to finish with every detail of every order from cutting and sewing to performing all of the finishing touches to the packaging and shipping of every item that they produce and sell.
Also found on their website is their new bridal accessories line. There are five Bridal Collections (www.BlossomPillows.com/pillowshop) to select from, each offering a ring bearer pillow with a coordinating flower basket. All collections are handmade from doupioni silk and are adorned by hand using authentic Swarovski crystals, Swarovski pearls and/or fresh water pearls, ostrich feathers or metallic tassels. "We are so pleased to have added this to our line. Our Bridal Collections add that extra touch of elegant glamour that brides often look to incorporate into their wedding celebration," says Hadeed-Baird.
Originally designed in 1976, Blossom Pillows decorative throw pillow design was created by Hiam Hadeed. Looking to add a special design element not found in the home decor marketplace, she incorporated her love of gardening and her passion for flowers into a design that captured all of those elements. The end result was a unique and timeless, blossom-inspired decorative pillow. In 2007, daughter, Violet Hadeed-Baird joined forces with her mother to re-introduce her dimensional throw pillow design and proceeded to collaborate in designing additional shapes and styles to be sold via their new web-based business. "As Creative Director, my mother is always in the creative mood, I love that about her. Her passion and focus on the design process enables me to direct my attention to the sales and marketing responsibilities of our business," says Hadeed-Baird. The duo and their designs were nationally featured in the May/June 2009 issue of Victoria Magazine.
This mother/daughter design team is currently working on adding an evening bag line that will have their signature blossom design and blossom-shaped accessories, such as corsages that can be worn on a coat, jacket or can be incorporated into bridal headpieces for that added touch of style. They are also working on a line of blossom-inspired necklaces that will be made from silk organza, tulle, ostrich feathers, Swarovski pearls and crystals. "I am always looking to find new ways to incorporate my "blossom" design into interesting pieces and hope that our new projects will continue to keep our customers and clients excited about what we produce," says Hiam Hadeed. Also in the works is a bedding line that will include duvet covers, shams, throws and new styles of throw pillows all with their signature, dimensional "blossom" design.
To learn more, visit www.blossompillows.com.