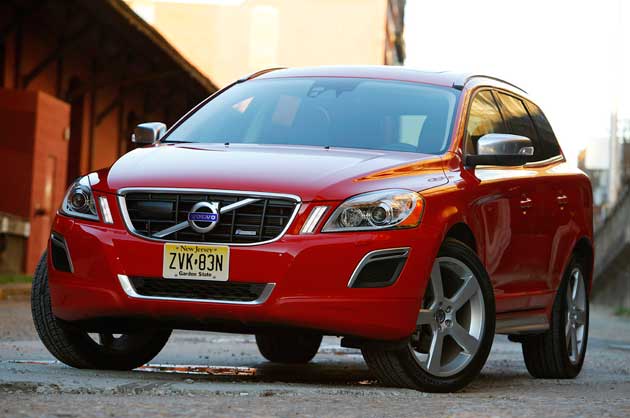 Its official, Volvo is on the luxury car business.  Long considered a practical tank of liberal urban mobility, the Swedish auto brand is giving other more traditionally high end Euro brands such as BMW and Mercedes Benz a run for their money.  This is best exemplified in the new 2012 Volvo XC60, a modern masterpiece of luxury and functionality.  Here are two standout reasons to further investigate the 2012 Volvo XC60…
Safety: It's no secret, Volvo makes its cars safer with innovations that lead the car industry. City Safety – standard in the XC60 – is one of the most significant technological breakthroughs in collision avoidance and a Volvo Safety world first. But Volvo understands that the most important safety feature in any car is a well-informed driver. That's why Volvo has developed the Technology Package and makes it available on the Volvo XC60.  The Technology Package includes enough intelligence gathering equipment such as lane departure warning, driver alertness control, and a blind spot information system(just to name a few) to engage, inform and involve drivers in a driving experience few would have thought possible 80 years ago.
Performance:  Performance is where innovation gets translated into fun. It's a complicated translation process, but it's safe to say Volvo's turbocharged six-cylinder engine plays a significant role in the T6 AWD. With its 300 horsepower, 325 lb/ft. of torque and ultra-low emissions, you'll find acceleration is instant, torque flows smoothly from gear to gear and fun translates to more fun as fuel goes farther.  You can also enjoy the instant power of a sporty 3.2 liter six-cylinder engine with 240 hp and 236 ft-lb of torque.
Phoenix Valley auto enthusiasts can view and test drive any current production model Volvo at any Phoenix Valley Toyota dealer.  Phoenix Valley auto enthusiasts should plan on attending the Phoenix Arizona International Auto Show to learn about the most recent concepts and innovations from Volvo and the rest of the auto industry, taking place at the Phoenix Arizona Convention center over Thanksgiving weekend.