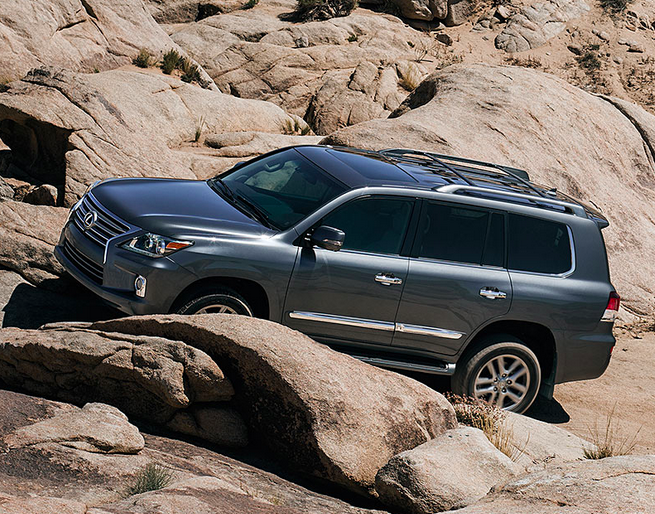 By: Brandon Randall
In a market filling up with big European SUV's, The Lexus LX 570 struggles each year to retain its title as luxury king of the off-road kingdom. While that crown is secure for now, In many other areas vitally important to todays discerning consumer, the LX has fallen way behind. These shortcomings are especially evident when we position the LX next to some of its top competitors from Europe. Sadly, in 2015, not much has changed to correct this. Still though, if between your point 'A' and 'B' there happens to be a mountain with no roads, the LX 570 has one of the best pedigrees for the job.
The Lexus LX 570 shares a chapter in the automotive pages of history with the iconic Toyota Land Cruiser. It's engine is reliable and time-tested and the drivetrain is as tough as a metal clad He-Man, minus the bad hair. For a hulking body-on-frame SUV, something built for the craggy worn trails rather than glassy smooth interstates, the LX delivers in spades. This work horse isn't all rough edges and a tangled mane either. It's been washed up, brushed down and fitted with an excellent interior boasting high quality materials and enough off-road resourcefulness to make anyone feel confident when the going gets tough.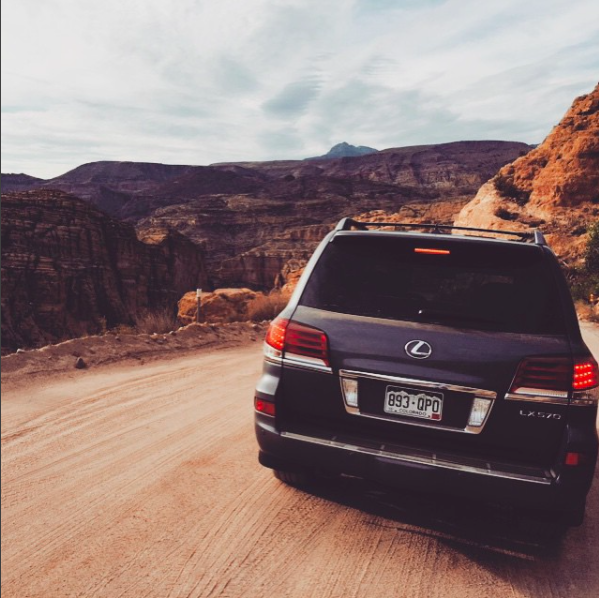 There's nothing worse then a car that looks out of place. Since the LX 570 shines brightest way off the beaten path, it's been designed to look the part, more West Coast Trail and less West Hollywood boulevard. With Clydesdale-like proportions, a tall ride height, meaty tires, long running boards and a roof rack, the LX has dressed for the part it's most eager to play. 20" 5-spoke wheels with an attractive graphite finish, HID headlights with integrated fog lamps and LED's in the back gently remind us that the big 'L' on the hourglass nose still stands for Lexus.
Move inside and you'll half forget all the untamed nature you're knee deep in outside your plush, sound insulated cabin. The Luxury package will get you plenty of leather and attractive wood trim, contrast stitching, front seats that are heated, vented, and a center console mounted cool box perfect for keeping your drinks cold while exploring those hot desert trails. An impressive 19-speaker sound system by Mark Levinson is also available. You can further treat your passengers in the back with hours of entertainment via a DVD player and headrest mounted video monitors with wireless headphones. New for 2015 is the Siri eyes-free mode that allows you to control the infotainment system with Siri on your iPhone.
The front seats are wide and comfortable, offer plenty of support and excellent visibility from their high perch. Second row seats are also heated in the Luxury package and can power forward and back to increase leg room for even your tallest of friends. They'll also fold and flip forward to increase cargo space. The third row is a bit of a disappointment though. For a vehicle claiming a max capacity of eight, the three in the back better be vertically challenged. Another unfortunate design mis-step is the fact that the third rows can't be completely removed, only flipped up and rotated to the side. While this is a charming little heritage feature from the past, from a practical stand point it just narrows your loading floor and limits your cargo capacity.
As fine as its finish may be, masculinity is still the dominating theme of the LX 570. A row of toggle switches that look like they came directly from the lunar module hint at how serious the LX is about playing off road. These controls will allow up to 2″ in adjustment to ride height, throttle control, crawl control, traction control, even the shock absorbers are electronically adjustable. Settings can be carefully tweaked to prepare against a wide range of trails, whether it's water, rocks, sharp grades or wildly uneven surfaces. It's never a problem.
Powering the Lexus LX 570 is the same 5.7L naturally aspirated V8 we find in the Toyota Land Cruiser. It makes 383 hp and 403 lb ft of torque. All that muscle is metered out with a center limited slip differential and a slightly behind the times 6-speed sequential shift transmission. Flat out acceleration from 0-60 is a class trailing 7.4 seconds. Another missed mark is its very low 14 mpg. Very soon Lexus will have to borrow some moves from its European rivals play book and start incorporating turbochargers to improve performance and fuel efficiency.
For easy drives around town the LX 570 is smooth but ultimately feels oversized on narrow city streets. Under heavier cornering it rolls and pitches, exhibiting clumsy handling characteristics. It'll swallow up any road imperfection in its path without missing a beat though, and cabin noise is always subdued for the big V8. There's a 7000 lb tow rating with hitch and ball mounts already in place and fitted with trailer sway control. Active ABS and traction control come with aggressive all-terrain modes as well.
Everything considered, the message is clear, the 2015 Lexus LX 570 shines brightest where the pavement ends and the rock strewn trail begins. Sure, it's European competition may have more cargo space, better fuel economy, a more composed ride and better acceleration. Maybe the LX 570 is relaying on its birthright to off-road greatness as an excuse to not evolve in other important areas. Sadly, to stay competitive, it'll have to start bringing more to the table soon or risk quickly fading into the forgotten pages of automotive history. However, when your taste for adventure knows no limits and you need a big luxury SUV to match. Look no further than the LX 570.
Price as tested: $90,720.00